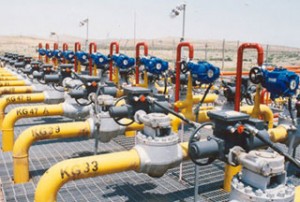 Turkey continues discussions with Iran over an investment in three phases of Iran's South Pars gas field as well as a gas swap, the Iranian Oil Minister says.
"Discussion over Turkish investment in the development of phases 22, 23 and 24 of Iran's South Pars gas field was a high on t he agenda of talks between the two sides," Iranian Oil Minister Masoud Mirkazemi told reporters on Wednesday, after a meeting with Turkish Energy and Natural Resources Minister Taner Yildiz in Tehran.
Mirkazemi added that the two sides also discussed the issue of Iran's gas transit through Turkey.
"Technical committees are to study the details raised during the ministerial meeting," he added.
The Turkish and Iranian governments signed an agreement in 2008, based on which Turkish Petroleum Corporation (TPAO) would produce 20.4 billion cubic meters of natural gas annually from three development phases of Iran's South Pars gas field.
In October Iran gave TPAO a one-month deadline to finalize the deal and develop phases 22, 23 and 24 of South Pars, but then extended the deadline by three months during a high-ranking Turkish delegation's visit to Tehran.
South Pars gas field is estimated to hold about 14 trillion cubic meters of gas, or about eight percent of total world reserves.
Turkey is to invest around USD 3.5 billion to USD 4 billion in Iran's South Pars gas field, an Iranian Oil Ministry official has said.