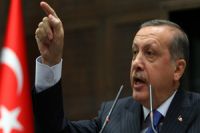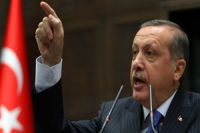 Turkish Prime Minister Rajab TayyebErdoghan has said he would even demolish a mosque for the sake of a construction project, and has dismissed environmental protests against his ambitious building plans as "banditry."
In a heated speech, addressing complaints over the environmental ramifications of a project to construct a third BosphorusBridge, Erdoghan said, "Everything can be sacrificed for roads."
"Even if there is a mosque in front of a road, we would demolish that mosque and rebuild it somewhere else," he said.
Erdoghan called the opposition "uncivilized bandits" and accused them of not sharing society's values.
"We won't stop because somebody says so. Bandits used to block roads in the past, now modern bandits are blocking the roads," he said.
Erdoghan's uncompromising attitude on various construction projects has caused uproar among his critics. Anti-government protesters have criticized Erdoghan for what they describe as increasingly authoritarian measures following the brutal crackdowns on protesters in Gezi Park in Istanbul this summer.
After Erdoghan announced plans to redevelop the park, a peaceful sit-in snowballed into mass protests. The subsequent clashes with police drew international attention and widespread condemnation.