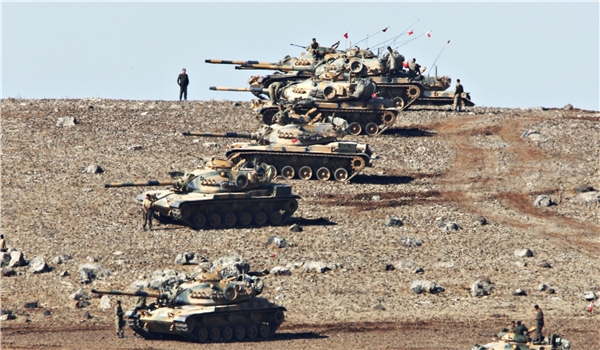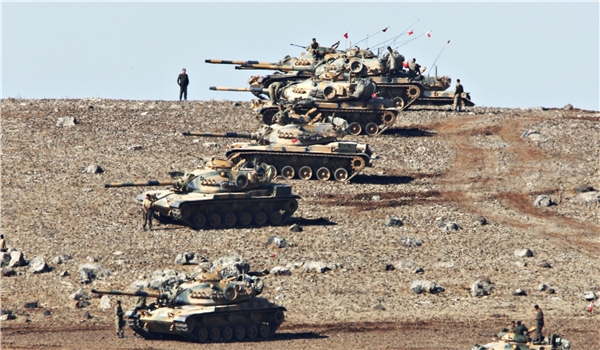 The Turkish Army, worried about the imminent collapse of terrorist-held lands North of Syria, has sent more military equipment and troops to one of the Turkish border cities near Syria following the recent victories of the Syrian army and Kurdish fighters against the militants in the provinces of Aleppo and Lattakia, Turkish media disclosed.
The city of Kilis in the Southern part of Turkey near the border with Syria and the Gaziantep-Aleppo highway has been the destination of a growing number of Turkish army troops and their modern arms and military equipment, the Turkish language news agency, Duqan reported.
Under the pretext of fight against the ISIL, Turkey and Saudi Arabia have announced their readiness to dispatch ground forces to Syria.
The Turkish deputy prime minister announced that his country is resolved to establish a buffer zone at Turkey-Syria border with the length of 10 kilometers, including the Syria's Northern city of Azaz in the buffer zone.
A report said on Tuesday that a Tal Rifat-bound column of fresh militants recruited and trained in Turkey was targeted by the Syrian and Russian warplanes on a road near the newly-liberated city in the Northern part of Aleppo, adding that 300 terrorists were killed in the air raid.
The Russian and Syrian fighter jets, in a joint operation, tracked and targeted an over 300-member convoy of fresh militants, who had earlier crossed the Syria-Turkey border to join the terrorist groups operating in Tal Rifat and its surroundings.
The militants column was on a road connecting Azaz and Tal Rifat.