Middle East
North America
Turkey
Turkish F-35 pilots no longer flying at US base: Pentagon
The United States has grounded Turkish F-35 pilots in Arizona over Ankara's plans to buy Russia's S-400 air defense system, according to a Pentagon spokesman.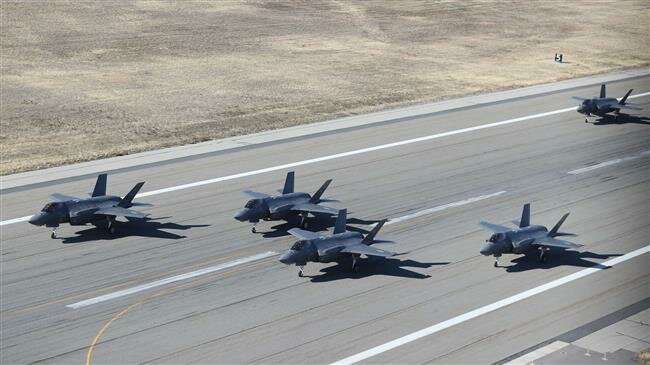 Air Force Lieutenant Colonel Mike Andrews said on Monday that Turkey's F-35 pilots were no longer flying at a US air base in Arizona.
"The department is aware that the Turkish pilots … are not flying," Andrews told the Reuters news agency.
The spokesman said the US policy will continue unless Turkey averts the purchase of the Russian system.
"Without a change in Turkish policy, we will continue to work closely with our Turkish ally on winding down their participation in the F-35 program."
The S-400 contract has soured Ankara's ties with Washington.
On April 1, Washington announced that it would be suspending all "deliveries and activities" related to Turkey's procurement of F-35 stealth fighter jets over Ankara's plans to purchase the S-400s.
The US has threatened Turkey that it would end the program if it refuses to halt its 2017-finalized deal with Moscow for the advanced missile system, and has also threatened to impose sanctions on the country if it presses ahead with the contract.
Washington has also warned that the deal will jeopardize Turkey's cooperation with NATO.
Ankara, however, has emphasized that it will not bow to US pressure to cancel the deal with Moscow.
The US claims that the Russian equipment is not "compatible" with the hardware and network under the control of NATO, which is dominated by Washington and has Turkey as a member.
US issues ultimatum to Turkey to cancel Russia dealThe US has given Turkey until the end of July to abandon a deal with Russia to buy an S-400 missile defense system.
President Recep Tayyip Erdogan said last week it was "out of the question" for Turkey to back away from its deal with Moscow.
He added that the US had not "given us an offer as good as the S-400s."
The Pentagon has declined to comment on the decision, but it has reportedly said talks are underway with Ankara for the potential sale of Patriot missile defenses to Turkey.
Turkish Foreign Minister Mevlut Cavusoglu said on Thursday that the S-400s purchase is a "done deal" and cannot be canceled.
Cavusoglu highlighted that the United States could not guarantee it would be able to sell the Patriot systems to Ankara due to an impasse in Congress.
The S-400 is an advanced Russian missile system designed to detect, track, and destroy planes, drones, or missiles over 400 kilometers away. It has previously been sold only to China and India.