Turkey
Turkish police arrest 16 protesters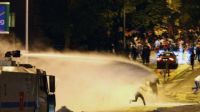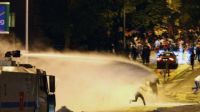 Turkish riot police have attacked anti-government protesters, who had congregated in the Dikmen district of the capital, Ankara, arresting 16 of them.
According to Press TV, on Wednesday, Turkish police forces used tear gas and water cannon to disperse 2000 protesters staging demonstrations in Ankara.
Protesters had reportedly gathered overnight in the Ankara district and tried to barricade a main road.
Meanwhile, local Turkish television showed protests against the release of a police officer who shot to death a protester during anti-government demonstrations in Ankara.
On Monday, Ankara's Criminal Court rejected lawyers' demand to detain the officer, named Ahmet S., ruling that the shooting was "within the limits of self-defense."
The 26-year-old protester, Ethem Sarisuluk, was shot in the head during a demonstration near Kizilay Square on June 1. He was declared brain dead and subsequently died on June 14.
On the same day, Turkish Prime Minister Recep Tayyip Erdogan praised the "legendary heroism" of police forces in quelling anti-government protests that have rocked the country for more than three weeks.