Turkey
Turkish police arrest 20 over protests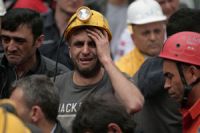 At least 20 people have been arrested in the Turkish city of Istanbul for allegedly taking part in anti-government protests last week.
According to NTV television channel on Monday, Turkish police forces backed by helicopters launched an operation in the city's restive district of Okmeydani.
Last week, the district was the scene of clashes between protestors and police, which left two people dead.
A Turkish protester, who was shot by security forces in a protest in Istanbul, died of his injuries on May 22.
On May 23, Turkish authorities said a second person died from his wounds. The victim was reportedly a bystander who was shot during violent protests a day earlier.