Turkey
Turkish Police close Gezi Park, Taksim Square on tense anniversary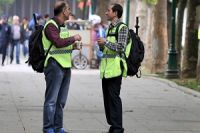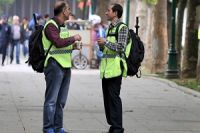 Istanbul is on alert on the first anniversary of the massive Gezi protests May 31.
According to Hurriyet daily, calls were made for street action in the flashpoint area of Taksim Square, which was the heart of last year's demonstrations.
But officials signaled that no demonstration would be allowed in Taksim and even in other parts of Istanbul, as the police ordered a sweeping deployment to crush any attempt of protest.
Tensions run high as some 25,000 police officers, 50 water cannon trucks (TOMAs), a large number of armored vehicles, as well as helicopters, are dispatched to prevent any gathering at Taksim Square and its environs.
The Istanbul police canceled all holidays and increased the shifts of officers to 12 hours until a second order. Additional policemen from 11 other provinces were deployed to the city as part of measures against possible protests.