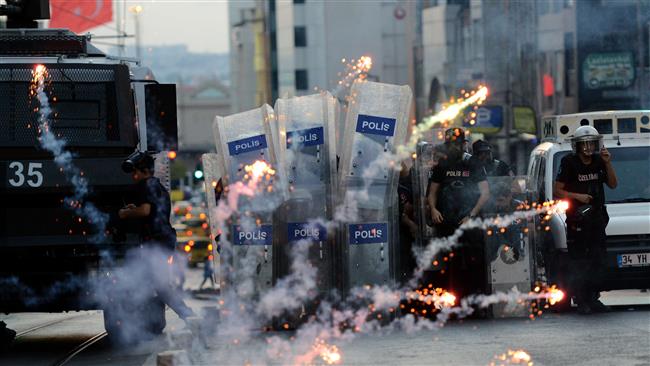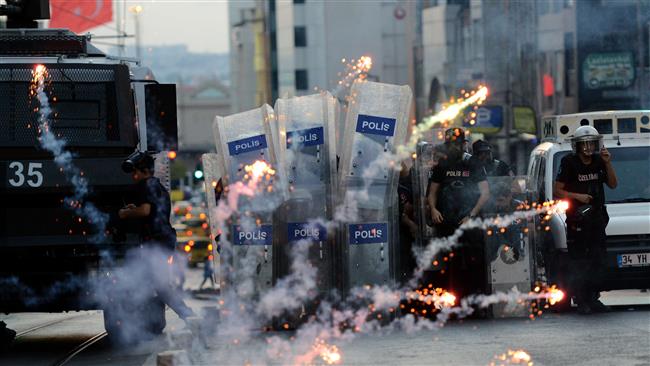 Turkish police have used tear gas and water cannon to disperse hundreds of protesters condemning the government for a recent deadly bomb attack in a border town.
On Tuesday, some 800 protesters took to the streets of Kadıköy district on the Asian side of Istanbul to denounce the Monday bomb attack in the mostly Kurdish border town of Suruç.
In the border town of Nusaybin, largely populated by residents of ethnic Kurdish descent, police also used tear gas against protesters.
The explosion in Suruç, located in southern Turkey near the Syrian border town of Kobani, killed 32 young activists.
The blast targeted people from the Federation of Socialist Youth Associations (SGDF), who had gathered at the garden of the Amara Culture Center of the Suruç Municipality before their journey to Kobani to help with rebuilding the war-ravaged town.
Kurdish people in Turkey are frustrated by the government's failure to stop the ISIL Takfiri group from committing terrorist activities in the regions bordering Syria.
Speaking close the site of the blast late on Monday, Turkey's Prime Minister Ahmet Davutoglu said there was a "high probability" that ISIL was responsible for the deadly attack.
"What's necessary will be done against whomever is responsible," he stated, adding, "This is an attack that targeted Turkey."
In an earlier demonstration in Istanbul on Monday, police also fired tear gas and used water cannon at demonstrators condemning the attack.
Turkey and some other regional countries have been widely accused of supporting the ISIL Takfiri militants in Syria as part of a broader Western plot to overthrow Syrian President Bashar al-Assad.