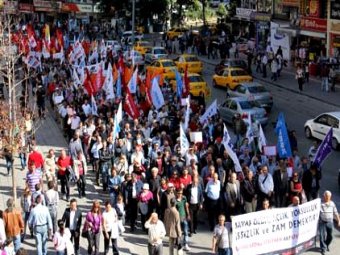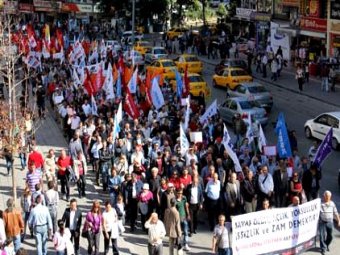 The Revolutionary Federation of Trade Unions, the Private Sector Employees Trade Unions Federation, the Architects Chambers Federation, the Doctors Syndicates Federation, several Turkish parties; social, cultural and political organizations, all have staged protests in many Turkish cities to protest against the policies adopted by Erdogan against Syria.
Protestors descried Erdogan as an agent of Uncle Sam, demanding him to end involvement in Syria.
In a statement read in a square in Ankara, Secretary General of the Trade Unions Federation, Ismail Hakki Tombul, said that the Justice and Development Party has been carrying out an imperialistic interference in Syria.
Tombul said that Erdogan's government has become an accomplice in the murder of innocents in Syria, that Turkey was transformed into a war base under the command of the United States.
He added that this government is practicing a military policy that incites sectarianism and hatred within Turkey and burdens the Turkish people with the costs of its war by increasing taxes and raising prices.
He affirmed that trade unions will continue to oppose those who "beat the drums of war" and will raise their voice to call for peace.