World News
Turkmen President Calls for Diplomatic Solution to Caspian Legal Regime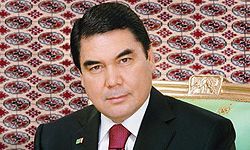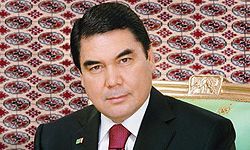 Turkmen President Gurbanguly Berdimuhamedov renewed his call for a diplomatic solution to the littoral states' disputes over the Caspian Sea legal regime.
Addressing a cabinet meeting in Ashgabat on Saturday, the Turkmen president demanded the five Caspian Sea littoral states to find a diplomatic solution to their disputes over the legal regime of the sea, and further underlined that any such solution should be based on international laws and norms.
"Turkmenistan supports the best version of the Caspian Sea legal regime's convention," Berdimuhamedov added.
"Adoption of a legal regime for the Caspian Sea will create the best opportunity and possibility for the further enhancement of ties among the littoral states," he said.
Last week representatives of the five littoral states convened in Ashgabat to attend their 31st meeting on the Caspian Sea legal regime.
Iran's special envoy for the Caspian Sea affairs Mohammad Mehdi Akhoundzadeh was also present at the Ashgabat meeting.
He said that any decision on the Caspian Sea's legal regime requires a consensus of all the littoral states, otherwise it would be unacceptable.
"Any decision and agreement on the Caspian Sea should be made through coordination with and the consensus of all the five Caspian Sea littoral states," Akhoundzadeh told FNA.
He underlined the littoral states' friendly and close relations which can lead to the settlement of problems among them, and said, "The Caspian Sea littoral states should believe in their role and potentials and they can make themselves needless of any third party country in light of the good relations existing among their presidents and different bodies."
The status of the oil and gas rich inland sea has been a source of disagreement among the littoral states since the collapse of the Soviet Union in 1991.
Iran has underlined that all littoral states should have a fair and just share of the Caspian Sea in a bid to guarantee durable peace and stability in the region.
The Caspian Sea is estimated to contain between 17 billion and 33 billion barrels of proven oil reserves.
The Caspian Sea is the largest enclosed body of water on earth by area, variously classed as the world's largest lake or a full-fledged sea.
Caspian Sea littoral states consist of Iran, Russia, Kazakhstan, Turkmenistan and Azerbaijan. They have been debating their share in the Caspian Sea legal regime since the collapse of the Soviet Union in 1991.
The Caspian Sea legal regime is based on two agreements signed between Iran and the former Union of Soviet Socialist Republics (USSR) in 1921 and 1940. The three new littoral states, established after the collapse of the Soviet Union, do not recognize the prior treaties, triggering a debate on the future status of the sea.