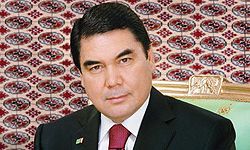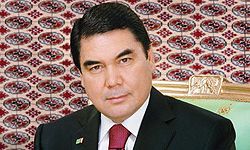 Turkmen President Gurbanguly Berdymukhammedov underlined the necessity for the further expansion of the bilateral trade ties between Tehran and Ashgabat.
"The relations between Ashgabat and Tehran completely meet the needs and national interests of both the Turkmen and the Iranian nations," Berdymukhammedov said, addressing a cabinet meeting on Saturday.
He also ordered the high-ranking Turkmen authorities who are responsible for holding the sixth exclusive exhibition of Iran's products to organize it at the highest possible level of quality.
Iran has initiated massive diplomatic steps to expand its ties with the neighboring and the Central Asian states. President Ahmadinejad's administration has in recent years paid special attention to Tehran's economic, cultural and political cooperation with Kazakhstan, Tajikistan, Turkmenistan, Uzbekistan and Kyrgyzstan.
In July, Iranian Foreign Minister Ali Akbar Salehi stressed the necessity for the further expansion of trade cooperation with Ashgabat, and said Tehran is eager to use the potentials of Turkmenistan's market.
"Given their unique capabilities and capacities, the Iranian and Turkmen markets complement each other, and there are many capacities in Turkmenistan's market for Iranian traders, industrialists and Iran's engineering-technical services," Salehi said in Ashgabat, in an address to Iranian and Turkmen businessmen.