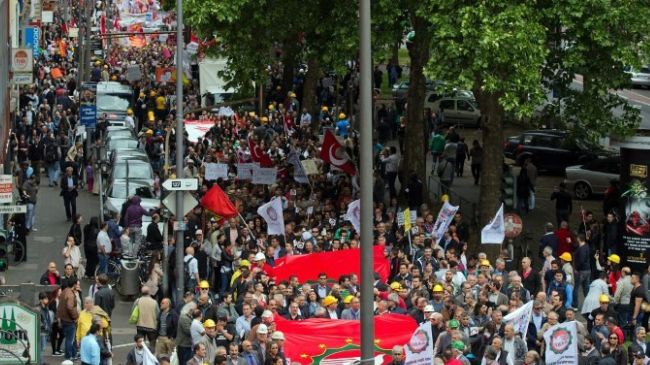 Tens of thousands of people have protested against Turkish Prime Minister Recep Tayyip Erdogan in the German city of Cologne.
German authorities said that an estimated 45,000 protesters marched in the western German city, where Erdogan was to address Turkish expatriates ahead of Turkey's presidential election later this year.
The protesters held banners that read "Erdogan persona non grata," and called for the lifting of a ban on social media networks, including YouTube and Twitter, in Turkey.
Erdogan's government blocked the two websites in March after they were used to spread audio recordings implicating the prime minister and his allies in a major corruption scandal.
Some protesters in Cologne wore hardhats with the word "Soma," the name of the Turkish town where 301 coal miners died last week. The demonstrators denounced the Erdogan government over what is seen as its failure to protect and rescue the workers who were trapped at the site following a blast.
Furthermore, the crowds chanted 'everywhere is Taksim,' referring to Istanbul's Taksim Square, the focal point of anti-government rallies last summer that left several people killed and many more injured.
Erdogan faced international condemnation for his handling of the crisis, and the Turkish police were strongly criticized for using excessive force against peaceful protests.
The protest in Germany came as Erdogan was to hold a campaign-style rally in Cologne ahead of Turkey's presidential election in August. Erdogan is expected to run for president.
Some three million people of Turkish origin live in Germany, of which 1.4 million are eligible to vote in Turkey's upcoming election.