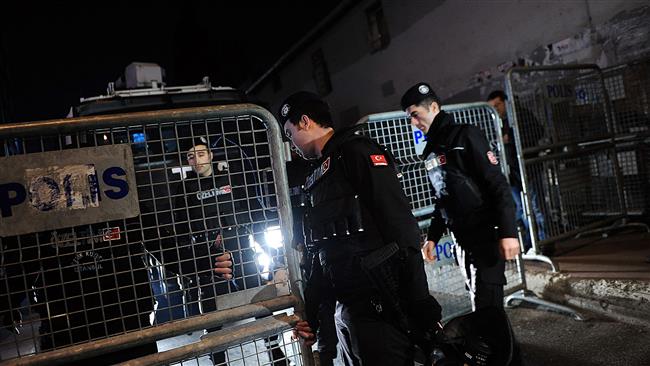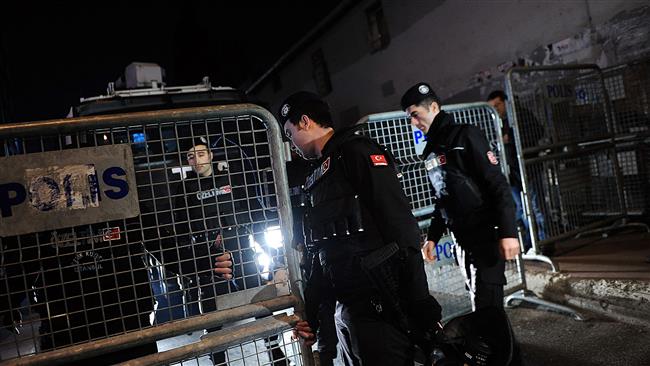 Turkish demonstrators have gathered outside the premises of a newspaper, protesting the publication of French satirical weekly Charlie Hebdo's cover in the Turkish daily's edition.
Around 40 protesters gathered outside the Cumhuriyet newspaper building in Istanbul on Wednesday, shouting slogans and holding placards reading "we love our prophet."
They also set alight copies of the Turkish paper amid a heavy riot police presence which were deployed to guard the offices of the newspaper.
The protest was held against the publication by the Turkish daily newspaper of a four-page pull-out containing cartoons and articles translated into Turkish from the latest edition of the Charlie Hebdo issue.
On Wednesday, French magazine Charlie Hebdo once again published a cartoon depicting Prophet Muhammad (PBUH) on the cover of its new edition. Muslims consider depicting Prophet Mohammed as blasphemous.
Meanwhile, a Turkish court on Wednesday blocked access to some websites featuring the latest Charlie Hebdo magazine cover.
The decision to block access to the websites came from a court in the southeastern Turkish city of Diyarbakir.
"The prophet of a religion that an individual and the society believe in is indisputably an indispensable value for that religion that needs to be respected," the court said.
The publication of the cartoon in the French magazine comes a week after the paper's offices in Paris came under attack in which 12 people were killed.