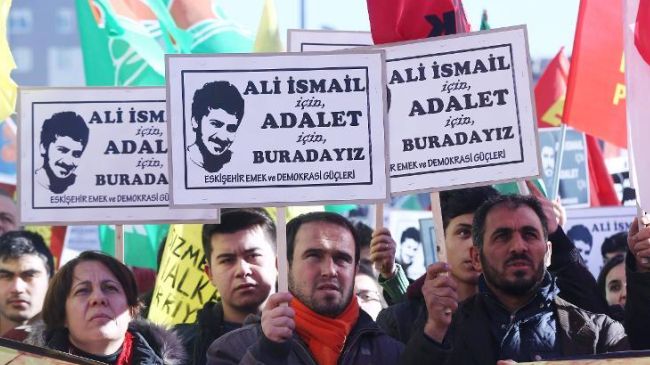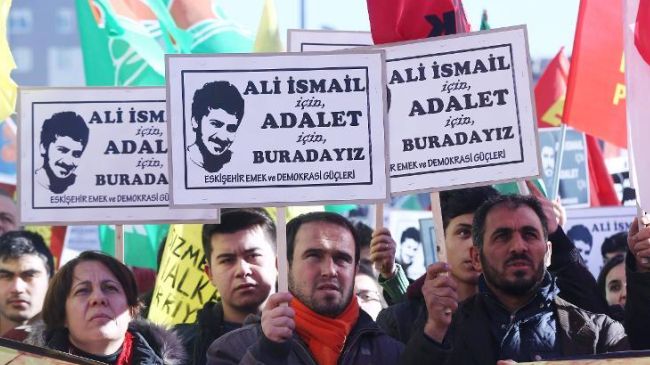 Protesters have taken to the streets in the central Turkish city of Kayseri where four policemen stand trial for the killing of a demonstrator during last year's anti-government rallies.
Angry demonstrators marched through the city on Monday, calling for justice for Ali Ismail Korkmaz as well as five other protesters who were killed in the Turkish government's brutal crackdown on demonstrators.
Some 2,000 riot police were sent to Kayseri for the start of the trial amid tight security measures in the city.
Korkmaz, 19, lost his life after being hit with baseball bats and truncheons in the western city of Eskisehir on June 2, 2013, during an anti-government demonstration.
The brutal assault was recorded by security cameras and the young student succumbed to his injuries after nearly 40 days in a coma.
Apart from the four officers, four plain-clothes policemen are also standing trial. The defendants are charged with crimes including premeditated murder and if convicted, they could face life imprisonment.
Turkey witnessed weeks of mass demonstrations after Turkish police broke up a sit-in held at Istanbul's Taksim Square in protest against a proposal to demolish Gezi Park on May 31, 2013.
The violence turned into nationwide demonstrations against the ruling Justice and Development Party and Prime Minister Recep Tayyip Erdogan, with police using water cannons, tear gas and rubber bullets against the demonstrators.
Several people were killed and many more injured and detained during the huge anti-government protests.
Erdogan faced international condemnation for his handling of the crisis and the Turkish police were strongly criticized for using excessive force against peaceful protests.
The Turkish premier had described the protesters as vandals, looters or terrorists, and claimed the demonstrations were part of a plot to topple his government.