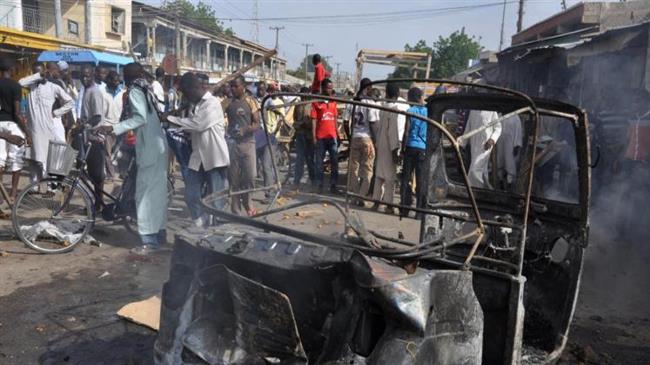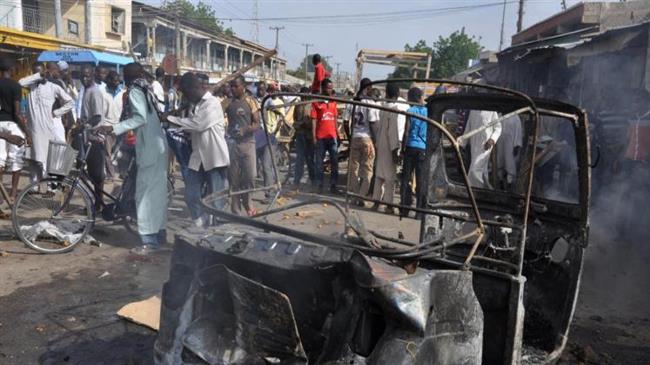 At least two massive explosions have ripped through a crowded cell phone market in Nigeria's violence-plagued northeastern town of Potiskum, but there have been no immediate reports on the number of casualties.
The blasts rocked the Kasuwar Jagwal market within seconds of each other at about 3:10 p.m. local time (1410 GMT) on Sunday, when business was in full swing.
"The first explosion happened inside the market and the second went off just outside the entrance as people rushed out to flee," Ibrahim Dambam, an eyewitness, said.
The development comes a day after at least 19 people were killed and more than a dozen wounded in a bombing attack in Nigeria's strife-torn northeastern state of Borno. The powerful blast took place when a young female blew herself up in the Monday market of the state capital, Maiduguri.
There was no claim of responsibility for the Saturday blast. However, Nigerian officials often blame such assaults on the Takfiri Boko Haram militants.
Boko Haram, whose name means "Western education is forbidden," has claimed responsibility for a number of deadly shooting and bombing attacks in various parts of Nigeria, which have left more than 10,000 people dead so far.