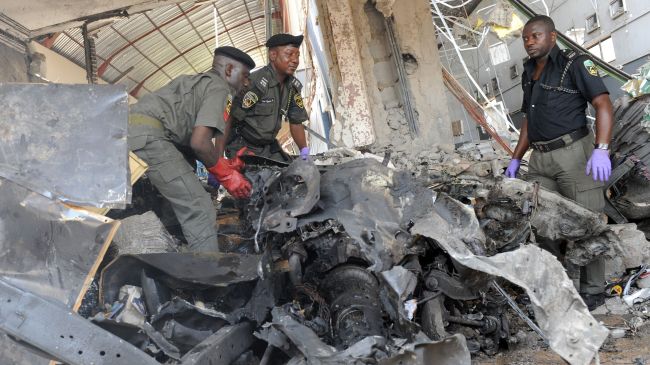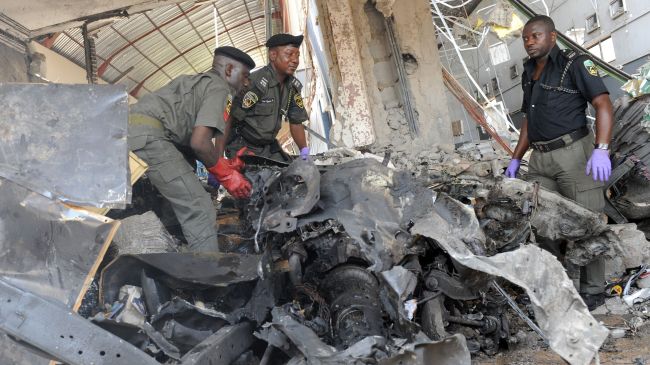 Twin bombs have ripped through a crowded bus terminal in central Nigeria, leaving at least 46 people dead.
On Tuesday, the twin bombs blasted minutes apart in the city of Jos in Plateau state, situated in Nigeria's Middle Belt region.
There was no immediate claim of responsibility for the attacks, but officials and residents blamed members of the Boko Haram Takfiri group for the assaults.
"For now, we can authoritatively confirm that 46 people were killed in the blasts while 45 people were seriously injured," said Chris Olakpe, the police commissioner in Plateau state, adding, "The place has been cordoned off. Nobody should go there until we finish sweeping the place tomorrow (Wednesday)."
The first explosion took place from within a truck at about 3:00 pm local time (1400 GMT) at the city's New Abuja Market.
The second blast came about 20 minutes later when rescue workers were present at the scene.
According to witnesses, several emergency workers were caught up in the second explosion.
"Scores died. Mostly women," said Pam Ayuba, the spokesman for Plateau state's Governor Jonah Jang.
"What we are doing now is (trying) to evacuate the dead bodies… many of them are burnt beyond recognition. The fire is still raging. Many shops are consumed by the inferno," said Mohammed Abdulsalam, area coordinator for the Nigerian National Emergency Management Agency (NEMA).
On Sunday, four people were killed in a car bomb attack in a predominantly Christian area of the northern city of Kano.
Boko Haram has claimed responsibility for a number of deadly gun and bomb attacks in various parts of Nigeria since 2009.
In mid-April, Boko Haram committed mass abduction of around 300 teenage schoolgirls from Chibok school in northeastern Borno state.
On May 15, 2013, the Nigerian army launched an offensive against the militant group a day after President Goodluck Jonathan declared a state of emergency in the three northeastern states of Borno, Yobe, and Adamawa.
Boko Haram — whose name means "Western education is forbidden" — says its goal is to overthrow the Nigerian government.