North America
Africa
Two Americans accused of role in Haiti president's assassination
Haitian police have blamed a 28-member assassination squad made up of Americans and Colombians for the killing of the nation's President Jovenel Moise.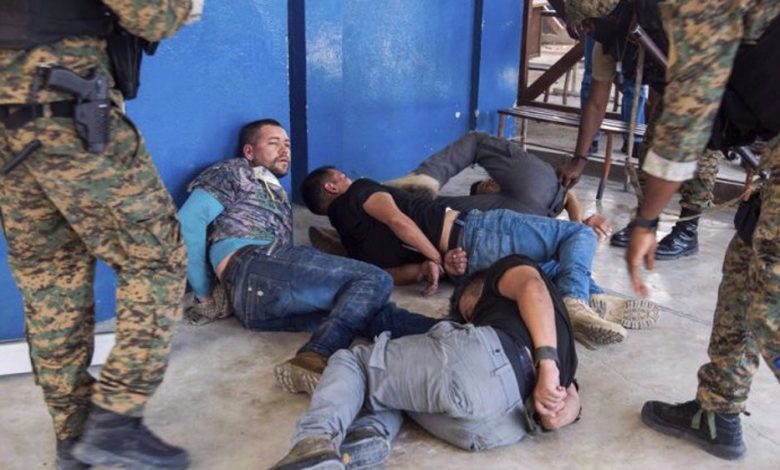 "It was a team of 28 assailants, 26 of whom were Colombian, who carried out the operation to assassinate the president," said Haiti's National Police Chief Leon Charles in a Thursday press conference in capital Port-au-Prince.
"We have arrested 15 Colombians and the two Americans of Haitian origin. Three Colombians have been killed while eight others are on the loose," he added, vowing to track down the other eight suspects.
Two arrested Americans identified
The two Americans among the 17 suspects detained in the brazen killing of the Haitian president at his residence on Wednesday were identified as James Solages and Joseph Vincent.
Solages, 35, was reported to have been a Florida entrepreneur and former security guard at the Canadian Embassy in Port au Prince and the youngest member of the assassination squad.
Solages described himself as a "certified diplomatic agent," an advocate for children and budding politician on a website for a charity he established in 2019 in south Florida.
Charles described the killers as "mercenaries" and said security forces had engaged in a fierce gun battle with the suspected assassins that lasted late into the night.
"We have the physical authors, now we are looking for the intellectual authors," Charles said.
Police paraded some of the suspects before the media, along with Colombian passports and weapons they had seized.
Hundreds of residents gathered outside a police station in Port-au-Prince, where the suspects were being held, shouting "burn them" and setting on fire a vehicle they presumed was that of the assassins.
Colombia offers cooperation
Colombia's Defense Minister Diego Molano declared that at least six members of the hit squad appeared to be former Colombian soldiers, and that he had ordered the army and police to help with the investigation.
"The initial information indicates that they are Colombian citizens, retired members of the national army," Molano said in a video sent to news media.
The head of the Colombian national police, Gen. Jorge Luis Vargas Valencia, said President Iván Duque had instructed the high command of Colombia's army and police to cooperate in the investigation.
Moise, 53, was killed in the early morning hours of July 7 by what appeared to be a group of highly trained killers, opening up a political vacuum just as he and other civil leaders were preparing for elections and discussing revisions to Haiti's constitution.
Moise, elected in 2016 with less than 600,000 votes out of a potential 6.1 million, was sworn in as president in 2017.
Opposition parties had said Moise's term should have ended in February, five years after his predecessor stepped down, and that he was planning to hold on to power by decree. Moise had contended his term to be extended until 2022.
According to Haiti's constitution, Moise should be replaced by the president of Haiti's Supreme Court, but the chief justice died in recent days from COVID-19, leaving open the question of who might rightfully succeed to the office.
Haiti's Ambassador to Washington Bocchit Edmond said on Thursday that his country was asking the US to help in the investigation. The US State Department said it was responding to a request for investigative assistance.
Haiti's land border with neighboring Dominican Republic and airport at Port-au-Prince remained closed on Thursday amid a nationwide state of emergency declared by Interim Prime Minister Claude Joseph.
A nation of 11 million, Haiti is the poorest country in the Americas with 4 million people living in hunger, widespread gang violence and armed groups controlling broad areas of the country including many neighborhoods in Haiti's capital. It faces a COVID epidemic and has been racked with political instability.
The country has long been heavily influenced by foreign powers, particularly the US and France, which are widely believed to have installed the nation's former dictators or pushed through presidential nominees in national elections.