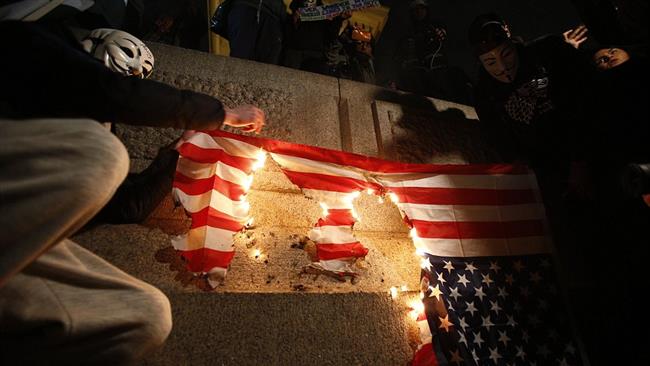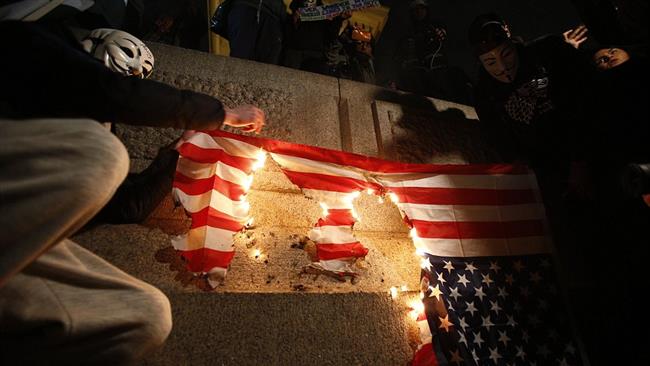 Anti-government protesters have spilled out into the streets in the British capital London for this year's "Million Masks March," using the opportunity to make their voices heard on a wide array of issues, ranging from the UK government's support for the Israeli government, the US president's planned state visit to Britain, the rights of migrants and the maladies afflicting the British society.
Organized by the famous hacking collective Anonymous, the peaceful Sunday night rally drew thousands of protesters who wore Guido Fawkes masks, the hacktivist group's well-known symbol.
Police arrested more than 50 people as the protesters descended on areas including Trafalgar Square, Buckingham Palace and the Houses of Parliament.
Taking shots at the ruling Tory government for its close ties with the US, the protesters set a Star-Spangled Banner flag on fire and asked Prime Minister Theresa May to withdraw a state visit invitation for US President Donald Trump.
May has been under fire from activists and politicians alike ever since extending the invitation on behalf of Queen Elizabeth II in January.
Some of the protesters also carried US flags with the words "war criminals" written on them.
Solidarity with Palestine
This year's march also coincided with the British government's centenary celebrations of the Balfour Declaration, a short 67-word document by former British Foreign Minister Arthur Balfour in 1917 that paved the way for Israel's creation.
The protesters expressed solidarity with the Palestinian people by waving their flags and condemning Israel's decades-long occupation of their lands.
Despite facing international criticism, May commemorated the declaration by holding a series of events attended by Israeli Prime Minister Benjamin Netanyahu.
'One solution: Revolution'
Enraged by the government's "abuses and malpractice," the protesters carried signs and chanted slogans calling for a "revolution" in the UK.
"We have seen the encroaching destruction of many civil liberties we hold dear, we have seen the pushes to make the internet yet another part of the surveillance state," read the event's Facebook page.
"We have seen the Government's disregard for migrants, for the poor, the elderly and the disabled, we have seen the capital, profit and greed of the few put before the well-being of the many and we say enough is enough," the statement added.
"The Government and the 1% have played their hand. Now it's time to play ours. Expect us," it concluded, noting that similar events were planned in 800 cities across the world