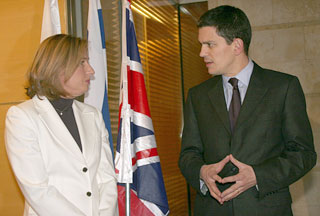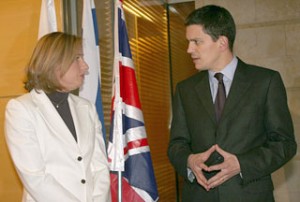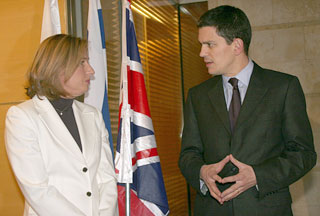 Britain has apologized to Israel over a UK court arrest warrant for former Israeli Foreign Minister Tzipi Livni and vowed "urgent" legal adjustments to reverse the verdict.
British Foreign Minister David Miliband has apologized to his Israeli counterpart Avigdor Lieberman over a recent court ruling that convicted Livni of links to atrocities committed by Israel during its assault on Gaza last year. The court had issued a warrant to detain her, should she embark on a UK trip.
Meanwhile, British Prime Minister Gordon Brown has, in a telephone conversation with the convicted Israeli official, expressed regret over the latest court verdict and stated that Livni would be 'most welcome' in Britain.
Brown has also pledged to transform the legal system.
For her part, Livni has slammed the British legal System for 'victimizing' people who "are forced to fight terrorism."
Several Israeli officials have canceled visits to Britain because of similar warrants issued after the Israeli devastating offensive against Gazans at the turn of the year.
The Israeli government has attacked Britain for her 'biggest mistake' after a Westminster magistrates' court issued the warrant at the request of lawyers acting for some of the Palestinian victims of Operation Cast Lead but dropped it once it was discovered that Livni was not in the country.
The warrant was issued for Israel's "war crimes" when Livni was foreign minister during the December 2007-January 2008 offensive which left over 1,350 Palestinians dead in the Gaza Strip.
The latest episode comes after a report by a United Nations Human Rights Council Judge Richard Goldstone, in which Israel has been implicated for 'deliberately' shooting civilians with white flags and targeting a mosque at prayer time during the Gaza war.
The Goldstone probe, awarded by the International Legal Assistance Consortium (ILAC), the Swedish Bar Association and the International Bar Associational for its originality, found Israeli army had violated international humanitarian law by also shelling Gaza City house and using Palestinians as human shields while searching civilian neighborhoods.