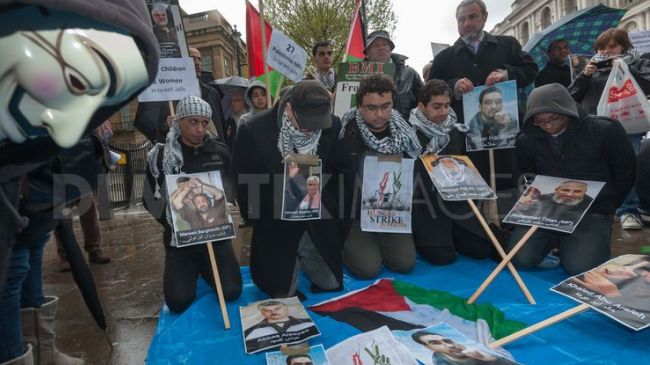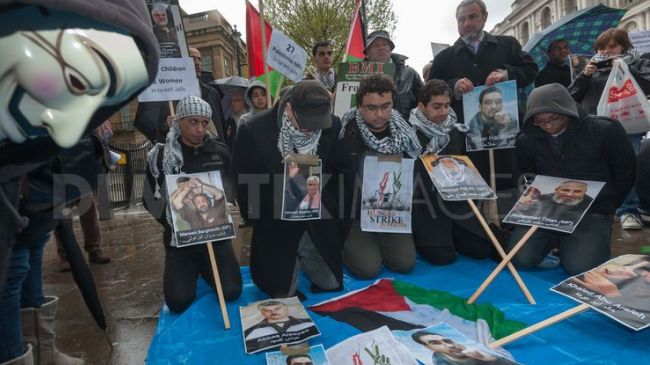 Campaigners in London and Bristol are to take part in an international day of fasting, to show their support for Palestinian hunger strikers, who are held in Israeli regime's prisons.
The London fast is set to take place at St Martin in the Fields, while the Bristol action will take place outside Hamilton House in Stokes Croft from 9am until 6pm on Monday 7 January.
The move is planned in solidarity with five Palestinian prisoners, who are held without charge or trial in a so-called administrative detention in Israeli regime's jails.
The two longest hunger strikers are Ayman Sharawneh from Hebron and Samer Issawi from al-Quds (Jerusalem), who will have been on a hunger strike for 187 days and 158 days respectively, by Monday.
Campaigners said administrative detention violates international treaties on the right to a fair trial including the Fourth Geneva Convention, which Tel Aviv is bound to observe.
They said the controversial measures in violation of the international law represent war crimes.
Campaigners are now calling for more people to fast in solidarity with the Palestinian prisoners.
"Imagine that it was your brother, sister or child that was slowly starving? I encourage everyone else who cares about human life and justice to join us or send a message of support," Vanessa Whiteley, who is to join the Bristol fast, said.