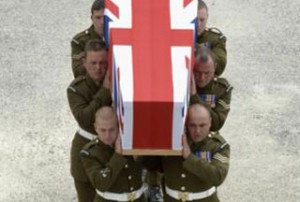 The British government has reportedly turned down a call for additional troops to Afghanistan as the US is weighing a surge in its troop levels.
Former head of the army Gen. Richard Dannatt, revealed the decision to reject a call for 2,000 extra soldiers, expressing disappointment with ministers, the Sun newspaper reported on Tuesday.
Dannatt, who retired last month, said military experts have been recommending a boost since the beginning of 2009. London's refusal meant that British forces had to fight on with "at least part of one arm" tied behind their backs.
"If the military says we need more troops and we can supply them, then frankly they should take that advice and deploy up to the level we recommend," he stressed.
Britain, which currently has around 8,300 British troops in Afghanistan, is one of the very few NATO member states involved in combat operations in the war-torn country.
However, a record death toll of 219 since the invasion of Afghanistan in 2001 has faced Prime Minister Gordon Brown with questions over the scope and purpose of their role in the eight-year war.
Responding to Dannatt's comments, the Ministry of Defense said it would review the numbers, taking into account military advice as well as the situation on the ground and the outcome of international discussions on the McChrystal review.
Meanwhile, US President Barack Obama is to attend two high-level meetings this week to discuss with top military and civil advisors whether to send as many as 40,000 more troops to Afghanistan.
The top US commander in Afghanistan, Army Gen. Stanley McChrystal, earlier said the situation in Afghanistan was serious, warning against any 'shortsighted strategy' that ignores stabilizing the war-torn country.