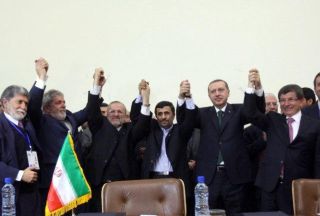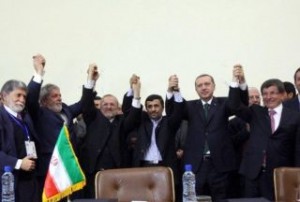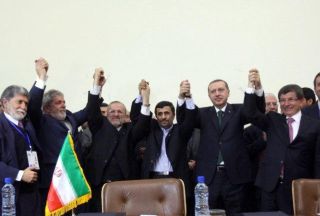 Britain and France will push for more UN sanctions against Iran despite a nuclear fuel swap deal while the EU and Germany say they want to see details of the agreement.
French foreign ministry spokesman Bernard Valero said the deal was "necessary" but "would in no way resolve the problem posed by the Iranian nuclear program."
Based on the agreement, Iran will send some 1200 kg of its 3.5 percent enriched uranium over to Turkey in exchange for a total of 120 kg 20 percent.
"The exchange of uranium that is envisaged amounts to a confidence gesture, a side issue," Valero told reporters.
Valero said there were "constant violations" of UN Security Council resolutions by Iran and added, "That is why we and our UN Security Council partners are preparing new sanctions in New York."
Junior British Foreign Minister Alistair Burt said in a statement Britain would work for a new sanctions resolution until Iran "takes concrete actions" to meet its obligations to the IAEA.
Iran's nuclear activities have been under close inspection of the IAEA, which has stressed in its numerous reports that there has been no diversion of nuclear material. As a signatory to the nuclear Non-Proliferation Treaty (NPT), Iran has the right to peaceful nuclear technology.
A European Commission spokesman said the agreement between Iran, Turkey and Brazil may be a step in the right direction, but details needed to be seen. Moscow and Berlin have said that they want more information before commenting.
This is while Iranian Foreign Minister Manouchehr Mottaki described the details of the deal in a 10-point declaration he read earlier Monday.
Christoph Steegmans, the German government's deputy spokesman, said a deal between Iran and the International Atomic Energy Agency (IAEA) "cannot be replaced by an accord with other countries."
Steegmans said at a regular press conference that Berlin wanted to obtain more information about the deal and only then could it assess the agreement.
In Brussels, a spokesman for the European Union executive said, "This agreement, while being a positive step in the right direction, does not fully address the issue of Iran's nuclear program."