Europe
UK MPs call for intelligence overhaul amid leaks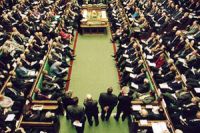 British lawmakers have called for radical reforms in the oversight of the country's intelligence system, following disclosures by the American whistleblower Edward Snowden.
According to AFP, a critical report by the Commons Home Affairs Select Committee, published on Friday, argued that the revelations showed the weak nature of the oversight and accountability of Britain's security and intelligence agencies.
The report slammed the current system as ineffective, saying it is undermining the credibility of the intelligence agencies and parliament itself.
Committee chair, Keith Vaz said "It is an embarrassing indictment of our system that some in the media felt compelled to publish leaked information to ensure that matters were heard in parliament."
British MPs called for reforms in the system, including the election of the membership of the intelligence and security committee. Moreover, in direct criticism of the committee's current chair, Sir Malcolm Rifkind, who is a former Conservative foreign secretary, the British MPs said the head should be a member of the largest opposition party.