Europe
UK parliament approves air strikes against(?) ISIL(?) in Iraq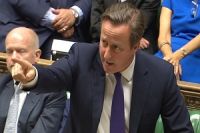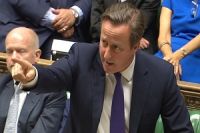 The British Parliament voted overwhelmingly Friday to join the American-led coalition carrying out airstrikes against ISIL Takfiri terrorists in Iraq. The vote did not apply to Syria, where the United States and Arab allies began bombing this week, NBC news reported.
Meeting in a special session, the lawmakers approved the strikes 524-43. Belgium and Denmark also voted Friday to join the coalition in Iraq.
British Prime Minister David Cameron made a passionate case for involvement in Iraq, describing ISIL as a terrorist organization unlike anything Britain had seen. "The brutality is staggering," he said. "Beheadings, crucifixions, the gouging out of eyes, the use of rape as a weapon, the slaughter of children. There isn't a 'walk on by' option."
Cameron suffered a humiliating defeat last year when lawmakers rejected proposed airstrikes against Syrian government forces.
Referring to the terrorists rampaging through Syria and Iraq as "psychopathic terrorists who want to kill us," his pleas for support were aimed at convincing a Parliament bruised by what is widely seen as a flawed 2003 Iraq intervention.