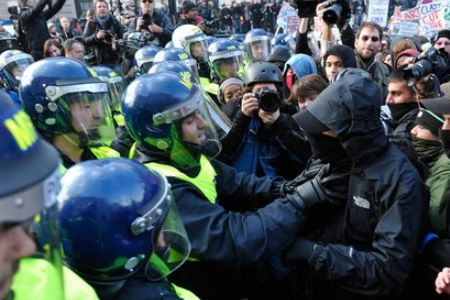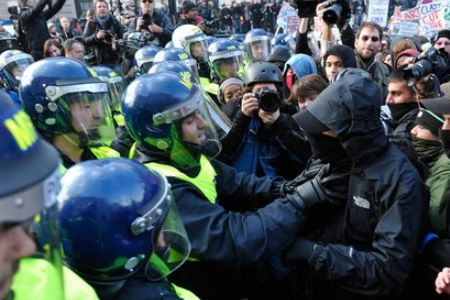 UK students continue protests against a planned hike in tuition fees that have been marred by what protesters describe as the "heavy handed brutality" of London police.
The government plan to increase tuition fees by up to 3 times to GBP 9,000 per year and slash university teaching budgets by up to 80 percent has brought tens of thousands of students out to the streets to demonstrate.
Many are now criticizing the police for their tactics.
On Wednesday, when protesters had reached the Treasury building, the police set up a wall of steel in an effort to block them from getting any closer to the Parliament.
Another line of police boxed in the protesters from behind, trapping thousands of university and high school students.
Any attempt by students to break out of the police enclosure was beaten back. Seventeen members of the public were reported injured along with two police officers.
At one point, police charged into the crowd on horsebacks.
Kept with no prospect of leaving, the protesters set up camp and lit fires. As temperatures fell to near freezing in the capital, students were forced to wait for up to seven hours and were even forced to urinate in the streets.
By the end of the night, the police detained 35 protesters.
Police have defended their tactics, claiming that it was necessary to ensure the violence did not spread throughout the city.
Clare Solomon, President of University of London Union, told Press TV, "If the police want another generation of people who have no confidence in the police, then they're doing a very good job at that. So many students have now seen the full force of the police, totally unprovoked and have lost all confidence in the police."
Occupations of university buildings are continuing while protest leaders have announced a further day of action on November 30.