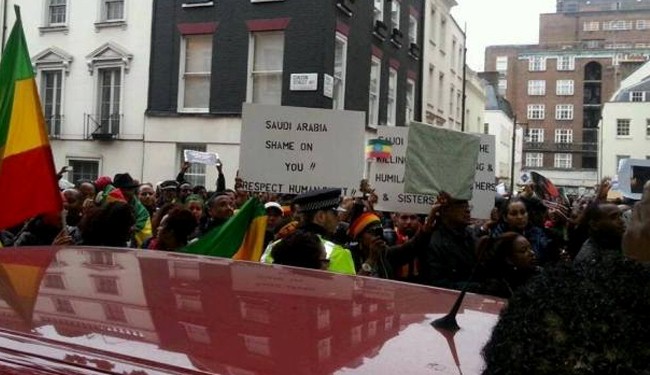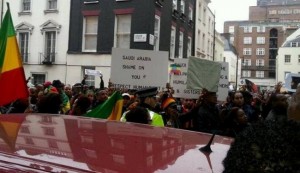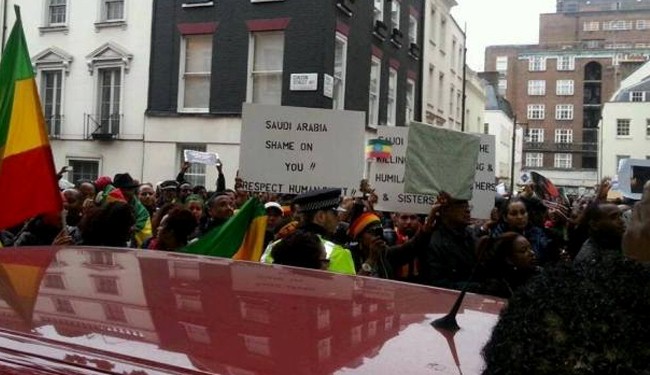 Hundreds of people have demonstrated outside the Saudi Embassy in London to protest Riyadh's policies in the Middle East.
On Sunday, the protesters accused Riyadh of fueling unrest and supporting Takfiri groups such as the so-called Islamic State of Iraq and the Levant (ISIL) in a number of countries, including Syria and Iraq.
"We are here to protest against the terrorist organization, called the ISIL… The Saudis are well known for endorsing terrorism in this region for their own personal gains," a protester told Press TV during the rally.
Another protester said that "As we know … [the Takfiri] ideology has been sponsored for at least a hundred years if not two hundred years. It is something that has been spreading across the world and funded by petrol dollars and they have not done anything to stop it. …. It's getting out of hand, they are keeping silent and they are not doing anything about it."
Violence in Iraq escalated after the ISIL terrorists took control of Mosul, in a lightning advance on June 10, which was followed by the fall of Tikrit, located 140 kilometers (87 miles) northwest of the capital, Baghdad.
The ISIL has vowed to continue its raid towards the capital. But Iraqi Prime Minister Nouri al-Maliki has said that the country's security forces would confront the terrorists.
Soldiers of the Iraqi army have been engaged in heavy fighting with the militants in different fronts and have so far been able to push back militants in several areas.
Maliki has said Saudi Arabia and Qatar are responsible for the security crisis and growing terrorism in his country, denouncing the Al Saud regime as a major supporter of global terrorism.
A captured ISIL member has recently revealed that the ISIL and other Takfiri groups in Syria are not merely financed by a member of the Saudi royal family, rather the individual actually heads the notorious terror enterprise.
In a video admission, the member of the ISIL said the radical group actually is led by Prince Adbul Rahman al-Faisal, the son of the late King Faisal of Saudi Arabia and the brother of the current Saudi Foreign Minister, Prince Saud al-Faisal, the WorldNetDaily reported in February.