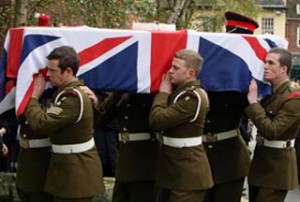 A British soldier has died in hospital from injuries sustained following a fire-fight with militants in southern Afghanistan, the UK Ministry of Defense says.
The Briton was wounded during an exchange of fire in Sangin district in Helmand province on Sunday, the statement said.
The serviceman was injured while on foot patrol and transported to a hospital in Birmingham.
The soldier's name was not immediately announced.
UK Prime Minister David Cameron warned Monday that more British troops may be killed over the summer months in war-ravaged Afghanistan.
Cameron's comments came in a statement to the House of Commons after his first official visit to the war-torn country last week.
The premier says he agrees that British troops must return home, but only when it is safe to do so. However, Cameron has not yet given an exact timetable for British forces' withdrawal from Afghanistan.
British government is under public pressure to withdraw troops from the country.
The British death toll since the war in Afghanistan started in 2001 now stands at 296.