Palestine
Awakening
European Awakening
Middle East
UK subsidiary of zionist 'israeli' arms firm Elbit forced to shut its Oldham factory
A UK subsidiary of the zionist arms company, Elbit Systems, has been forced to sell a factory in Oldham Town following sustained pro-Palestine protests.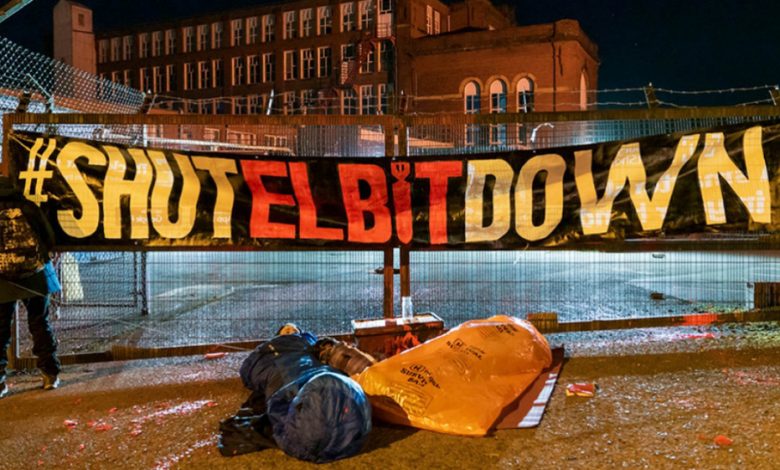 Elbit Systems UK announced on Monday that it had sold the Power and Control Business of its subsidiary Ferranti Technologies Ltd to TT Electronics, a British electronics firm, for $12 million in cash as part of a "restructuring" process of its British operations.
The Palestinian activists described the decision as "a huge victory" for them.
Samidoun Palestinian Prisoner Solidarity Network said the "victory speaks to the successful nature of strong direct action to impose a meaningful and material cost upon the profiteers of the colonization of Palestine and Israeli war crimes against the Palestinian people."
"Palestine Action has pledged to continue and escalate the actions to #ShutElbitDown, and this victory can and must inspire people around the world to intensify our actions to boycott Israel and shut down the merchants of death marketing weaponry "battle-tested" on Palestinians," it said.
This is amazing news!!! Direct action works! Well some @Pal_action for your incredible work and courage in shutting down part of the murderous war machine. These weapons are "tested" on Palestinian children…#Oldham #ShutElbitDown https://t.co/PxYEvJ6c4B— LEGAL EDUCATION IS FASCIST (@TheLawIsFascist) January 10, 2022
Ferranti P&C is a manufacturer of specialist military products and technology for drones supplied to the Israeli army.
The sale of the majority of Ferranti business came as the factory was rocked by weekly protests, organized by the Oldham Peace and Justice group and backed by the Palestine Solidarity Campaign.
The Ferranti products are used by the Israeli military against Palestinians in the besieged Gaza Strip.
The protesters had blockaded and occupied the site several times, forcing the closure of the factory for several weeks.
Occupations by the direct-action campaign of the Palestine Action costed millions in damages to the company.
"The brave individuals who occupied the factory over the past year can proudly say that drone technologies are no longer in production in Oldham," a spokesperson for the Palestine Action said on Monday.
Israel's weapons were made in #Oldham, but not anymore as we #ShutElbitDown for good! This is a victory for #Palestine, #Kashmir, and all those who suffer so Israel's arms trade can profit. pic.twitter.com/je21cm6bE3— Palestine Action (@Pal_action) January 10, 2022
The Palestine Action said the restructuring "suggests that Elbit is under significant pressure to tighten its UK operations. This is most likely due to the impossibility of continuing at the often-occupied site, the massive financial impact of occupations, and an attempt to avoid more bad publicity."
The campaign of effective direct action began in late August 2020 and saw 36 people arrested.
The pro-Palestine activists have vowed to continue their campaign until all "death-factories" are shut down.
It is "not enough that just one of these death-factories shuts down. We want to see Elbit itself shut down for good, and all of their businesses forced out of Britain," the Palestine Action spokesperson said. "We will keep escalating our actions until that happens."
Elbit UK currently has 10 sites in Britain. Other Elbit factories have also been hit by protests, including one at Shenstone in Staffordshire.
The Oldham factory was used for the manufacture of specialist military products and technology, including the SkEyepersistent surveillance system aboard Elbit's Hermes 450 and 900 drones. Ferranti also manufacture the SpectroXR ultra long-range imaging system for Hermes drones.
Israel has launched three major wars on Gaza since 2008, provoking worldwide outrage and condemnation.
In the latest bombardment campaign, at least 260 Palestinians, including over 60 children, were killed in a time span of 11 days in May 10.
The Gaza Strip, home to some two million people, has been under a blockade imposed by Israel since June 2007.