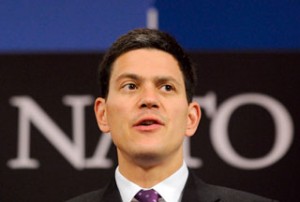 After Iran urged the revision of a Western-backed nuclear fuel proposal, British Foreign Secretary David Miliband has called on the Tehran government to make a 'prompt response'.
"We both want to see a prompt response from the Iranian regime in respect of the Tehran research reactor proposal," said Miliband after a meeting with his Russian counterpart, Sergei Lavrov, in Moscow.
Under the IAEA-brokered plan, as much as 70 percent of Iran's low-enriched uranium (LEU) would be sent abroad to be turned into fuel rods for medical use at the Tehran research reactor.
Powered by 20-percent enriched uranium, the Tehran research reactor produces isotopes for cancer care to more than 200 hospitals.
Iran has welcomed foreign cooperation on fuel supply, but has rejected the prospect of sending out the bulk of its stock in one batch.
Speaking to reporters on Sunday, Iran's Foreign Minister Manouchehr Mottaki called on Western policymakers to review the deal.
"We have studied the proposal and have found it raises a number of technical and economic questions, which we hope to discuss in future meetings," announced Mottaki.
The Tehran government says Western countries have a long history of breaking promises and should give sufficient guarantees that they will keep their end of the bargain this time.
In the early 1970s, Iran made a deal with France under which it was expected to receive around 50 tons of UF-6 gas, which can be turned into enriched uranium.
France, however, later reneged on the deal and has refused to deliver the uranium-hexafluoride to Iran.
Moreover, Iran, as a 10-percent stake holder of France's Eurodif nuclear facility is entitled to plant's output, but has never received any nuclear material.
"Iran is a sleeping partner in Eurodif [and has] never received a single gram of enriched uranium from France," said a spokesman for the state-controlled Areva that owns the remainder of the Eurodif plant.