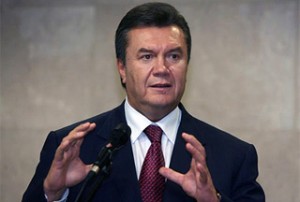 As Ukraine's premier prepares to contest the results of a February 7 run-off vote, Moscow extends an invitation to the country's president-elect Viktor Yanukovich.
Russian President Dmitry Medvedev's invitation on Monday comes as Yanukovich said he had placed the question of replacing his main election rival, Premier Yulia Tymoshenko, at the top his new coalition's priorities.
He can not veto the parliamentary coalition's choice, but must approve it.
Tymoshenko, who lost the election by a margin of 3.5%, has refused calls to admit defeat and resign, and her camp said Monday they were preparing evidence to back their allegations of mass election fraud.
Although a vote of no-confidence in parliament can push her out, she would continue to stay on as acting prime minister until a replacement is found.
Yanukovich, who was officially announced as the country's new chosen leader by Ukraine's main election commission on Sunday, is widely seen as pro-Russian.
One of his first unveiled plans, following victory in the polls, was to suggest a possibility of extending the permission for Russia's Sevastopol Naval Fleet to stay beyond scheduled withdrawal in 2017.
International observers, including the OSCE, said the election was free and fair.