Europe
Ukraine president to scrap anti-protest laws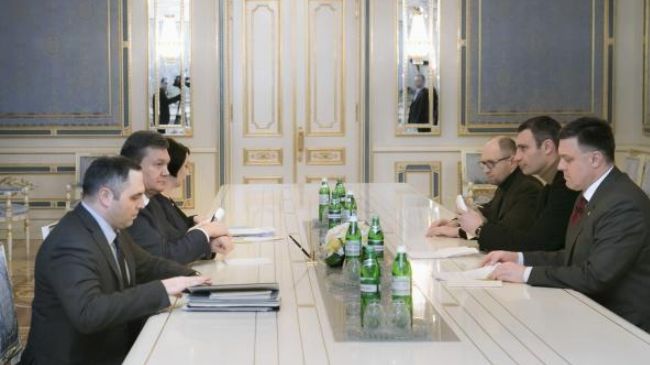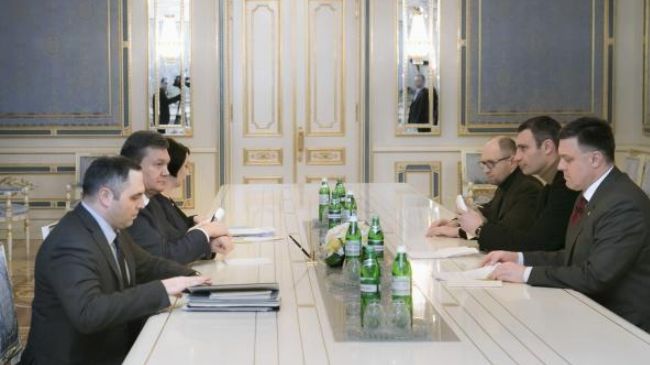 Ukrainian President Viktor Yanukovych and the opposition have agreed to scrap the anti-protest laws that sparked massive violent demonstrations in the country.
This was announced in a statement published on the presidential website on Monday following a meeting between Yanukovych and opposition leaders for the second time this week.
The president began the talks with the three main opposition leaders, namely Ukrainian Democratic Alliance for Reform (UDAR) leader and world boxing champion Vitali Klitschko, Fatherland Party leader Arseniy Yatsenyuk, and nationalist Svoboda (Freedom) party leader Oleh Tyahnybok.
A suggested amnesty for detained demonstrators would be offered if protesters stopped occupying government buildings and ended their rallies, Yanukovych said in the meeting.
The anti-protest laws, which ban any unauthorized installation of tents, stages or amplifiers in public places, were ratified in parliament on January 16.
The laws include up to five-year jail terms for blockading government buildings, hefty fines and prison terms for protesters who wear face masks and helmets, and driving bans for people who form convoys of more than five cars.
According to the legislation, people and organizations that provide facilities or equipment for unauthorized meetings would be liable to a fine of up to $1,275, or detention of up to 10 days.
In the first round of talks on Saturday, Yanukovych offered the post of the prime minister to Yatsenyuk and the post of deputy prime minister to Klitschko in a bid to resolve the two-month crisis in the European country.
However, Yatsenyuk later rejected Yanukovych's offer.
Former Prime Minister Yulia Tymoshenko has urged the opposition to reject what she calls humiliating conditions offered by the government.
Opposition leaders are still pressing ahead with their key demands, calling for a presidential election to be held this year.
Ukraine has been rocked by anti-government protests since Yanukovych refrained from signing the Association Agreement with the European Union at the third Eastern Partnership Summit in the Lithuanian capital Vilnius on November 29, 2013.
Kiev refused to sign the agreement after EU leaders called on Ukraine to allow Tymoshenko to travel overseas for medical treatment.