Ukraine to partake in 11 int'l military drills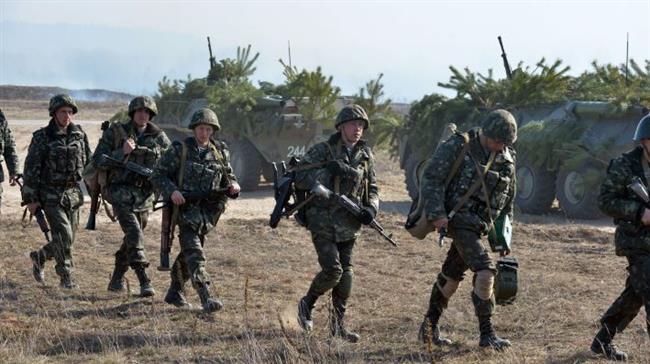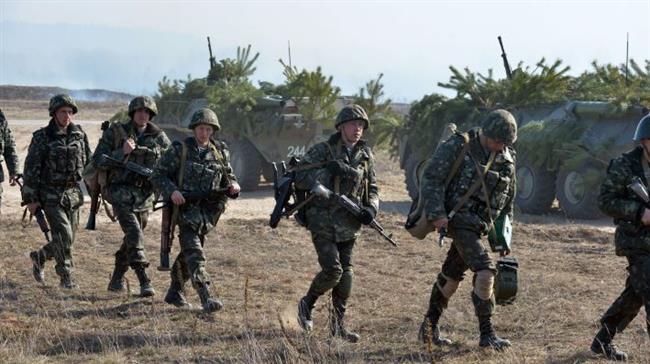 A senior official in Ukraine says the country's army will take part in 11 international military exercises in 2015 to develop its military capabilities in accordance with NATO standards.
Ukraine's Defense Ministry spokeswoman Viktoria Kushnir said on Monday that Ukrainian troops will participate in seven military maneuvers in Europe, while another four international war games will be conducted inside Ukraine.
"These exercises are going to finalize a stage of combat training to boost NATO standards in our troops," Kushnir said.
The so-called Ukrainian-US Rapid Trident maneuvers for ground troops and Sea Breeze, which is said to be the largest drill, will be hosted in Ukraine.
Kushnir said that the Naval Trident Juncture exercises will be held outside Ukraine.
The Ukrainian Navy will also take part in a number of other military maneuvers with American warships in the Black Sea.
The holding of war games in Ukraine requires parliament approval. President Petro Poroshenko is expected to submit a draft to the parliament to get permission to this end.
There have been growing speculations over Ukrainian membership in the NATO following the ouster of former President Viktor Yanukovych in February 2014 and the subsequent formation of a pro-Western government in Kiev.
However, NATO member Germany has voiced opposition to Ukraine's potential membership in the Western military body.
Ukraine's mainly Russian-speaking regions in the east have witnessed deadly clashes between pro-Russia forces and the Ukrainian army since Kiev launched military operations to silence the pro-Russians in mid-April.
Violence in eastern Ukraine intensified in May after the two flashpoint regions of Donetsk and Luhansk held local referendums in which their residents voted overwhelmingly in favor of independence from Ukraine.
According to the latest figures released by the United Nations, more than 4,700 people have been killed in the fighting and over 500,000 people have been displaced.
As a result of the crisis in Ukraine, the relations between NATO and Russia have plummeted to their lowest since the Cold War. The West accuses Moscow of playing a hand in the crisis, but Russia denies the allegation.