Europe
UK's phone-hacking probe widened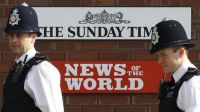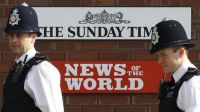 Britain's wide-ranging probe into phone hacking scandal has expanded beyond the media industry bringing companies and individuals under investigation.
According to Reuters, this comes as Scotland Yard explicitly verified that dozens of people detained are not linked to the media as the prime suspect in the case.
According to media reports British police have also revealed that some of the more than 125 people arrested have nothing to do with the media.
British media quoted Scotland Yard as saying, they have been nabbed as part of probe into hacking, eavesdropping and police bribery.
Police said in a statement on Tuesday that they are investigating targets beyond the media outlets gripped into the phone-hacking scandal.
However, police said they will not succumb to pressure to disclose names of other people or entities under probe.
According to the statement police say they "will not risk prejudicing future potential prosecutions" by releasing such details.