Iran
UNˈs Ban emphasizes need to use Iranˈs capabilities in crisis resolving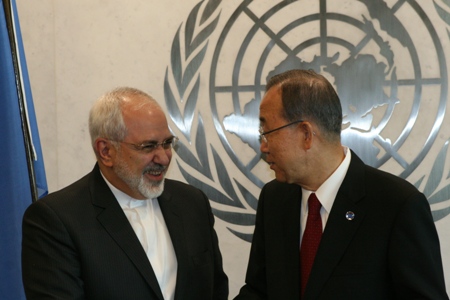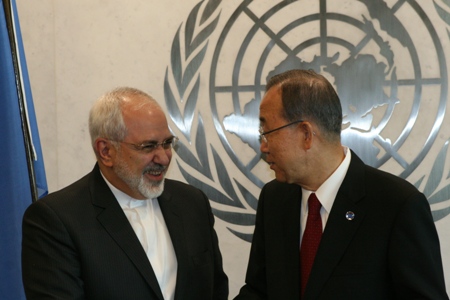 UN Secretary General Ban Ki-moon in a meeting with Iranian Foreign Minister Mohammad Javad Zarif here Thursday emphasized need for using Iranˈs capabilities and capacities in resolving current crises in the region.
UNˈs Ban emphasizes need to use Iranˈs capabilities in crisis resolving
'The Islamic Republic of Iran plays a constructive and effective role in resolving the regional crises and need for making greater use of Iran's potentials and capabilities and to solve the current problems in the region is necessary today,' emphasized the UN secretary general in the meeting.
Mr. Ban elaborated on the UN moves in various parts of the world, including Afghanistan, Iraq, Libya and Lebanon against terrorism and extremism and told Zarif that the various countries' contributions to problem resolving are very important and effective.
He reiterated that Iran, too, is naturally expected under the prevailing conditions in the Middle East to play its role positive role in problem resolving in the region.
He emphasized that Iran is a major player also in the Persian Gulf region and can play important roles using its broad capacities and capabilities.
The two sides in the meeting exchanged opinion on various issues, including Iraq, Afghanistan, Syria, and expansion of extremism and terrorism in the region, and the process of Iran's nuclear talks with the Sextet.
Zarif elaborated on Iran's viewpoints and practical moves aimed at preserving the regional peace and stability, good neighborly ties with the regional countries, and cooperation with the new Iraqi government, reminding the UN chief of Iran's commitment to preserve peace, stability, and good ties with neighbors and other world countries.
'Contributing to improvement of the deteriorating current conditions in the region and campaign against terrorism, too, has always been a priority for Iran and Tehran has always felt committed to contribute to that campaign,' he added.
Zarif also told Ban that Iran is both very willing and very optimistic about achieving a comprehensive agreement with the six world powers on its peaceful nuclear program, on condition that the same determination and good will exists on the other side, too.
He also referred to a recent report by the UN secretary general on the status of observing the human rights in Iran arguing that the report differs greatly with the reality on the ground in Iran.
Referring to the worse human rights conditions in many regional countries and the fact that the reports on the status of observing the human rights are issued merely on Iran, Zarif deducted that such reports are politically motivated and are signs of the double standards observed regarding the human rights.