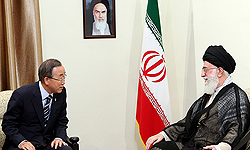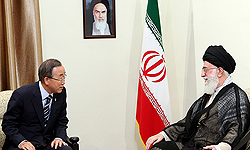 UN Secretary-General Ban Ki-moon in a recent meeting with the Leader of Islamic Ummah and Oppressed People Imam Seyed Ali Khamenei in Tehran asked Leader, as the Muslim world leader, to help the UN resolve the regional crises.
"As a supreme leader and also religious leader of not only Iran, but also this region, you can play crucially important role," the UN chief said during the meeting with the Supreme Leader in Tehran on Wednesday on the sidelines of the 16th Non-Aligned Movement (NAM) Summit in the Iranian capital.
"You have an important role to play; you have been playing in the situation in Lebanon, Iraq. I know you are very much concerned for situation in Bahrain.
"These are all the areas that Iran has been playing and will continue to play an important role," the UN chief added.
"I like to focus on one area today, on Syria. One of my main purposes of coming to meet you is to ask you to exercise maximum influence in resolving this crisis in Syria," Ban Ki-moon said.
"I think in this region, only Iran can play this crucially important role," reiterated the UN chief.
Ban Ki-moon was in Tehran to attend the 16th NAM heads-of-state summit and confer with Iranian officials on different regional and international developments.
Upon arrival in Tehran, the UN chief announced that he intends to meet with senior Iranian officials, specially the Leader, to discuss regional issues, the crisis in Syria in particular.
Earlier on the day, Ban Ki-moon met with Iranian President Mahmoud Ahmadinejad and discussed the latest regional and international developments.
During the meeting, the two sides discussed the most important regional and international issues and NAM's role in the establishment of sustainable peace and security in the world.
In addition to the meeting with Ahmadinejad, the UN chief also met with Iranian Parliament Speaker Ali Larijani and Secretary of Iran's Supreme National Security Council (SNSC) Saeed Jalili.