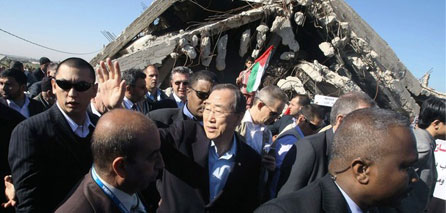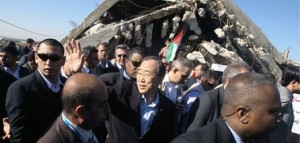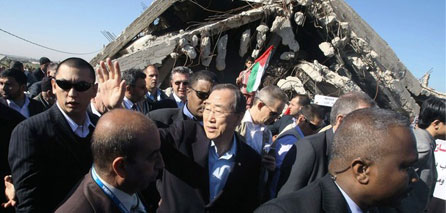 UN chief Ban Ki-moon crossed into the Gaza Strip today, expressing solidarity with the plight of the Palestinians and urging an end to the Zionist blockade of Gaza.
Mr. Ban was making his second visit to the Gaza Strip since the 22-day Zionist offensive on Gaza ended in January 2009 as part of a regional tour aimed at reviving the peace process, which ground to a halt when the fighting broke out.
In the occupied West Bank yesterday, the UN Secretary General had said his visit to Gaza was to show his support for Palestinians.
"I'll go to Gaza … to express my solidarity with the plight of the Palestinian people there and to underscore the need to end the blockade," Mr. Ban told reporters.
The Zionist occupation tightened its blockade on Gaza after the Hamas movement seized control there in June 2007, and has claimed that the border closures are necessary to contain the group, which is pledged to its destruction.
But Mr. Ban insisted ahead of a meeting with Shimon Peres yesterday that the closures imposed "unacceptable hardships" on civilians.
Gaza's borders have been mostly quiet since the end of the war, in which some 1,400 Palestinians were killed, but the closures have prevented the rebuilding of thousands of homes that were damaged or destroyed.
Mr. Ban's visit comes as part of a two-day regional tour in which he encouraged Zionist and Palestinian leaders to revive the peace process.
The Zionist entity, which occupied east Jerusalem along with the West Bank in the 1967 Six-Day war and annexed it in a move not recognized by any other government, has blamed the Palestinians for not returning to the negotiating table.
Mr. Ban's visit came on the heels of a statement by the Middle East diplomatic Quartet — the United States, United Nations, European Union and Russia — calling for a return to talks and a final peace deal within two years.