UN climate change confab kicks off today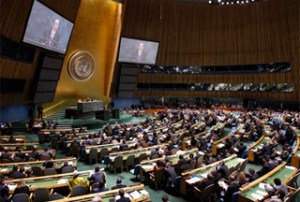 Security has been beefed-up for the marathon UN conference on climate change that will begin shortly in Copenhagen.
Despite the global economic downturn, 61 percent of the world supports government investment to address the issue, even if it means that it harms their national economies, a poll conducted in 23 countries said.
The landmark Copenhagen summit, which commences on December 7, gathers 192 nations under the flag of the United Nations Framework Convention on Climate Change (UNFCCC), the offshoot of the famous 1992 Rio summit.
On the eve of the conference, UN Secretary General Ban Ki-moon issued an upbeat note, predicting mankind would strike a blow against the 21st century's great peril.
The climax on December 18 — to be attended by more than 100 heads of state and government — should deliver a framework for a historic pact, he said.
The United States and China are the world's two largest emitters of carbon dioxide — invisible gases that trap solar heat and warm the atmosphere, interfering with Earth's delicate climate system.
"I am convinced that the conference in Copenhagen will give us a strong and important political accord which will then be the basis for an accord that is legally binding," Ban told French television.
The Danish police on Sunday tightened security around the conference venue, the Bella Center, closing off access for about an hour to investigate a bomb alert.
Six thousand police — more than half of all the police in Denmark — are being deployed in the capital. They could be reinforced to 9,300 if need be, according to Mogens Lauridsen, head of operations at the Copenhagen police.
Meanwhile, the EU plans to offer "one to three billion euros" in aid to developing countries over the next three years so they can fight the effects of climate change, the Financial Times Deutschland reported on Sunday.
The funding is to be agreed at a European Union summit in Brussels set for Thursday and Friday, coinciding with the conference in Copenhagen.