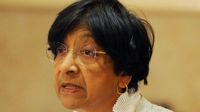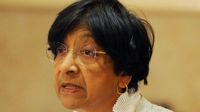 The United Nations has condemned foreign-backed insurgents in Syria for a conflict that has claimed more than 60,000 lives since it began in the Arab country more than 21 months ago.
According to Press TV, UN High Commissioner for Human Rights Navi Pillay made the announcement in a statement issued in Geneva on Wednesday.
She stated "Given there has been no let-up in the conflict since the end of November, we can assume that more than 60,000 people have been killed by the beginning of 2013."
Pillay also noted that 59,648 people had died by the end of November 2012 in the unrest.
She added "The number of casualties is much higher than we expected, and is truly shocking… Although this is the most detailed and wide-ranging analysis of casualty figures so far, this is by no means a definitive figure."
Earlier in the day, at least 30 people were killed in an air raid on a gas station in al-Maliha, a suburb of the capital Damascus.
Many other people were also injured in the attack.
The Syrian government says that the chaos is being orchestrated from outside the country, and there are reports that a very large number of the armed insurgents are foreign nationals.