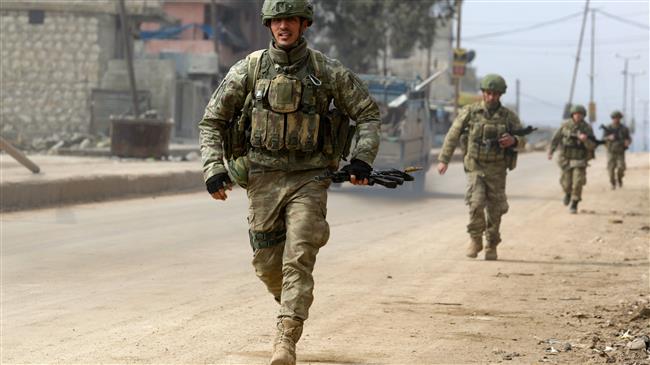 UN Special Envoy for Syria Geir Pedersen has called on Moscow and Ankara to de-escalate the situation in the Arab country's Idlib province after the Turkish president threatened "imminent" operation in the last stronghold of terrorists in northern Syria.
In a Wednesday briefing to the UN Security Council, Pederson said "Turkey and Russia, as sponsors of the Idlib de-escalation arrangements, can and must play a key role in finding a way to de-escalate the situation now."
"I cannot report any progress in ending the current violence in the northwest or in reconvening the political process," he noted.
"Russian and Turkish delegations have met intensively in recent days… and there have been presidential contacts, too. But no understanding has yet emerged. To the contrary, public statements from different quarters, Syrian and international, suggest an imminent danger of further escalation," he noted.
His comments came shortly after Turkish President Recep Tayyip Erdogan threatened to launch an "imminent" operation in Idlib province if Damascus fails to withdraw behind Ankara's military positions.
"Like our previous operations, we say our operation may happen suddenly one night," Erdogan said, referring to three cross-border incursions his country has so far waged in northern Syria.
Speaking at a meeting of the ruling Justice and Development Party's parliamentary group in Ankara on Wednesday, Erdogan stressed that Turkey was determined to make Idlib a secure zone "no matter the cost."
Turkey's Erdogan threatens 'imminent' Syria operation, sparks Russian warningThe Turkish president threatens an "imminent" operation in Syria's Idlib Province if Damascus fails to withdraw behind Ankara's military positions, sparking a warning from Russia.
The comments sparked a warning from Kremlin spokesman Dmitry Peskov, who said, "If we are talking about an operation against the legitimate authorities of the Syrian republic and armed forces of the Syrian republic, this would of course be the worst scenario."
Peskov, However, added that Moscow would not object if Ankara acted against "terrorist groups in Idlib" in accordance with existing agreements, saying, "Contacts with Turkey are continuing."
Meanwhile, Russia's envoy to the UN Vasily Nebenzya told the Security Council that militants, who are losing their last stronghold in Syria amid the government's offensive to retake Idlib, do not allow civilians to leave through humanitarian corridors set up in the province.
The envoy also emphasized the need for the Syrian government to take complete control of the country.
UN calls for immediate ceasefire, but no statement issued
In his briefing to the Security Council, Pedersen urged ambassadors in the council to "put their weight" into finding a solution to end nearly nine years of conflict. "I urge all members of this Council to put their weight firmly behind the search for a political way forward… only in this way can we truly serve the interests of the Syrian people."
"I appeal once again for full respect for international humanitarian law and for an immediate ceasefire in Idlib, ultimately towards a nationwide ceasefire. I urge key international players to continue and intensify their contacts to restore calm," he said.