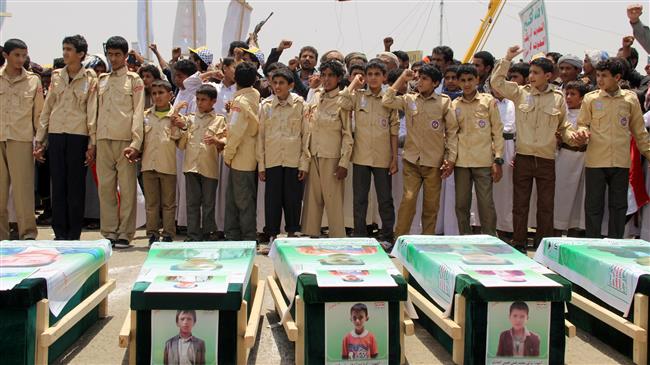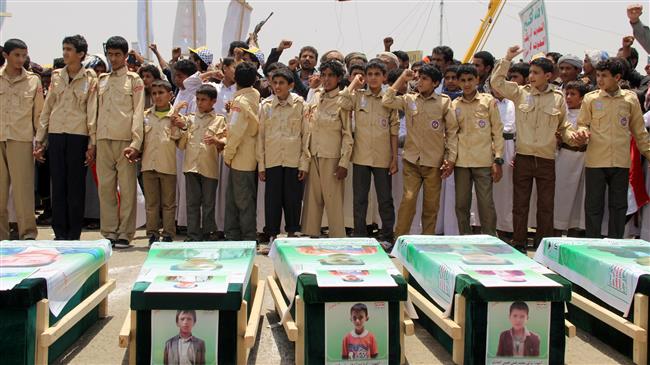 Iran has strongly condemned the recent heinous Saudi-Emirati crime in killing Yemeni civilians, mostly women and children, in Yemen's Hudaydah Province, urging the United Nations to help put an immediate end to the ongoing human crisis in the impoverished country.
Iranian Foreign Ministry Spokesman Bahram Qassemi on Friday expressed his sympathy over the Saudi-led war crime in Durayhimi city on Thursday which killed at least 31 civilians, mostly children.
Yemen's Arabic-language al-Masirah satellite television network, citing a spokesperson of the country's Health Ministry, reported that all the victims, whose vehicle was also destroyed in the Thursday strike, were internally displaced people.
Qassemi said the world is witnessing another crime against the oppressed Yemeni people in a short time after a strike by the invading military coalition hit a school bus in Yemen and killed scores of children.
The Iranian spokesperson said the civilians are killed due to the "silence and indifference of influential international bodies."
"Iran once again calls on international and human rights bodies to prevent in whatever possible ways the continuation of such crimes by Saudi-Emirati warplanes in Yemen given the sequence of these human crimes and painful tragedies as well as their destructive impacts on regional and international peace and security," Qassemi pointed out.
He added that the countries that are providing aggressors with lethal weapons and bombs are also responsible for the killing of Yemeni women and children, saying, "They should give response to the international community and the Yemeni people about their policies and the outcome of their measure."
The Iranian spokesman called on the UN and influential countries to increase their efforts in order to put an immediate end to the Saudi-led coalition's strikes against the Yemeni civilians and adopt necessary strategies and measures to protect their lives and health.
In a 90-page analysis on the investigative work of a body, known as the Joint Incidents Assessment Team (JIAT), Human Rights Watch said on Friday a so-called investigatory body, overseen by Saudi Arabia, has for more than two years been covering up war crimes committed by the kingdom in Yemen.
The Al Saud regime along with some of its allies, particularly the UAE, has been waging a deadly war against impoverished Yemen since March 2015 in an attempt to reinstall former president Abd Rabbuh Mansur Hadi and crush the popular Ansarullah movement.
Some 15,000 Yemenis have been killed and thousands more injured since the onset of the Saudi-led aggression on Yemen.
The United Nations says a record 22.2 million Yemenis are in need of food aid, including 8.4 million threatened by severe hunger.
A high-ranking UN aid official has warned against the "catastrophic" living conditions in Yemen, stating that there is a growing risk of famine and cholera there.
"The conflict has escalated since November, driving an estimated 100,000 people from their homes," John Ging, UN director of aid operations, told the UN Security Council on February 27.
Hezbollah slams Saudi crime in Durayhimi, 'suspicious' international silence
Lebanon's Hezbollah resistance movement also on Thursday slammed the Saudi crimes in Yemen and 'suspicious' international silence in this regard.
In a statement released by its Media Relations Office, Hezbollah described as war crimes the attacks carried out by the Saudi-UAE alliance.
It said, "Even before the blood of school students dries up, the US-Saudi aggression has committed a new massacre in Yemen's Hudaydah, killing dozens of children and women… amid suspicious silence by the international community which only counts the number of victims."
"Attacks by US-Saudi alliance: killing children and women as well as destroying schools, hospitals, markets and heritage sites in Yemen are all war crimes in every sense of the word," the statement added.
The Lebanese resistance group denounced the continuation of such crimes against the Yemeni people and called on the international community to "stand against this savage aggression in order not to be complicit in these crimes."
Hezbollah also saluted the Yemeni leadership and people, stressing that the "blood of innocents will triumph over the swords of the headmen."