Iran
World News
UN Secretary-General lauded Iran's "constructive" cooperation with the UN bodies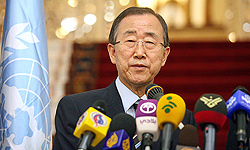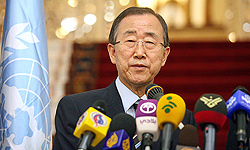 UN Secretary-General Ban Ki-moon lauded Iran's "constructive" cooperation with the UN bodies, specially the International Atomic Energy Agency (IAEA) over its nuclear program.
"Iran's cooperation with the International Atomic Energy Agency has been constructive and useful," Ban Ki-moon said, addressing the inauguration ceremony of the Non-Aligned Movement summit here in Tehran today.
"Iran is a UN and IAEA member state and has taken positive moves," Ban added.
He stressed that the UN considers nuclear energy as a right for all countries, and asked Iran to continue confidence-building measures in a bid to achieve its rights to access peaceful nuclear energy.
In relevant remarks, UN Secretary-General Ban Ki-moon reiterated during a meeting with Iran's Parliament Speaker Ali Larijani on Wednesday that Iran is entitled to the right to use nuclear technology for peaceful purposes, citing that international rules and regulations entitle all countries to make use of the nuclear energy for civilian purposes.
"Based on the Non-Proliferation Treaty (NPT), all countries, including the Islamic Republic of Iran are entitled to use the nuclear energy and there is no doubt in this issue," Ban Ki-moon said in a meeting with Iranian Parliament Speaker Ali Larijani in Tehran on Wednesday.
He also urged Iran to show more transparency and adopt more confidence-building measures in its nuclear activities.
Iran says its nuclear program is a peaceful drive to produce electricity so that the world's fourth-largest crude exporter can sell more of its oil and gas abroad. Tehran also stresses that the country is pursuing a civilian path to provide power to the growing number of Iranian population, whose fossil fuel would eventually run dry.
The US and its western allies allege that Iran is pursuing a nuclear weapons program while they have never presented corroborative evidence to substantiate their allegations against the Islamic Republic.
Iran is under four rounds of UN Security Council sanctions for turning down West's calls to give up its right of uranium enrichment, saying the demand is politically tainted and illogical.
Iran has so far ruled out halting or limiting its nuclear work in exchange for trade and other incentives, saying that renouncing its rights under the NPT would encourage the world powers to put further pressure on the country and would not lead to a change in the West's hardline stance on Tehran.