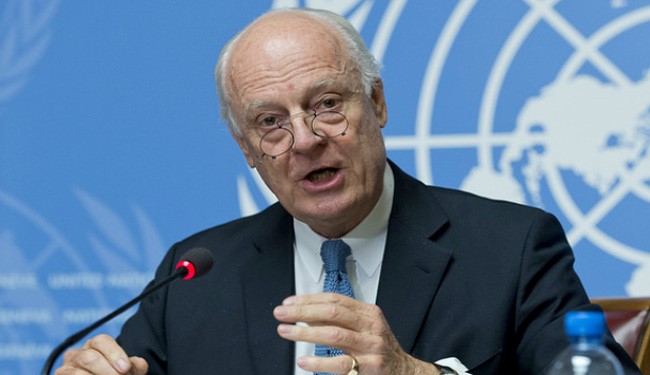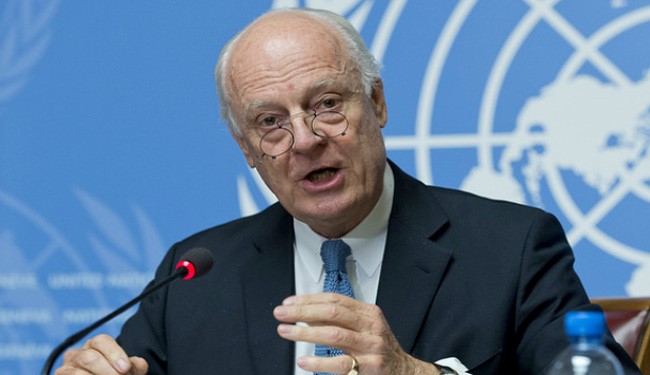 UN special envoy for Syria Staffan de Mistura says he will travel to Iran to meet the country's officials to discuss the conflict in the Arab country.
De Mistura told a news conference on Thursday that he would travel to Damascus and Tehran for talks and consult Turkish, Saudi, Jordanian and Lebanese officials as well on "political transition" in Syria before the resumption of indirect talks between the Syrian government and opposition on April 13 on the conflict in the Arab country.
The UN mediator had previously cited April 9 and then April 11 as the starting date for the talks.
The latest round of the UN-backed talks on Syria came to a halt on March 24 over disagreements about the role of Syrian President Bashar al-Assad in Syria's future. The foreign-backed Syrian opposition says Assad must step down before a transitional government can be established.
In an interview published on March 30, the Syrian president said both government and opposition should be included in a Syrian unity government.
Assad, however, rejected the "transitional body with full executive powers" that the opposition pushes for in a move that entails his departure.
He stressed that the meaning of the term "the political transition" is transition from one constitution to another, adding, "Thus, the transition period must be under the current constitution, and we will move on to the new constitution after the Syrian people vote for it."
"Neither the Syrian constitution, nor the constitution of any other country in the world includes anything that is called a transitional body of power. It's illogical and unconstitutional," Assad said.
Syria has been gripped by foreign-backed militancy for five years.
According to a February report by the Syrian Center for Policy Research, the conflict in the Arab country has claimed the lives of over 470,000 people and displaced nearly half of its pre-war population of about 23 million within or beyond its borders.