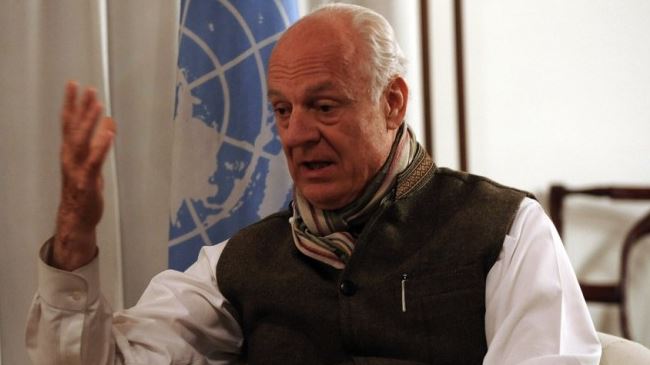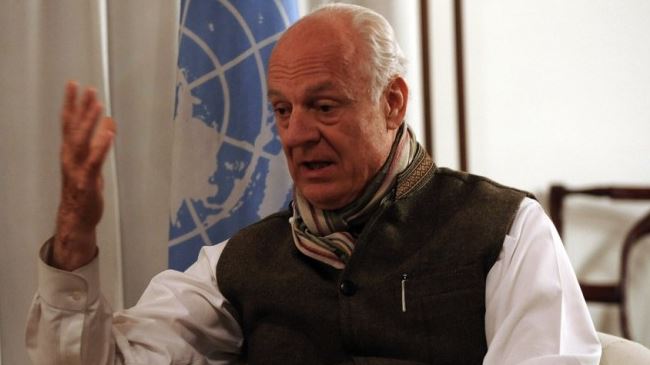 The United Nations envoy to Syria has called on the Turkish government to allow Kurdish volunteers to cross the border into the Syrian Kurdish town of Kobani and defend it against the ISIL Takfiri militants.
"We would like to appeal to the Turkish authorities in order to allow the flow of volunteers at least, and their equipment to be able to enter the city to contribute to a self-defense operation," Staffan de Mistura told reporters in Geneva, Switzerland, on Friday.
He also urged all involved parties to take action to prevent ISIL militants from capturing Kobani.
"If this [town] falls, the 700 plus (civilians in the city), [and] perhaps if they move a little bit further the 12,000 people (gathered nearby)…will be most likely massacred," the UN envoy warned.
According to the so-called Syrian Observatory for Human Rights, which is close to the Syrian opposition, ISIL forces pushed forward on Thursday, and now control at least 40 percent of Kobani, including all eastern areas, a small part of the northeast and an area in the southeast.
However, local Kurdish officials say the Takfiri militants are in control of a small part of the strategic border town.
Several senior US administration officials have said the Kobani will soon fall to the ISIL Takfiri militants, noting that the takeover is not a major concern for Washington.
State Department Spokeswoman Jen Psaki told reporters in Washington on Wednesday that saving the Syrian Kurdish town is not a US priority.
Kurdish officials say airstrikes carried out by the US-led coalition against ISIL positions in Syria are not working.
Kobani and its surroundings have been under attack since mid-September, with ISIL militants capturing dozens of nearby Kurdish villages.
The weeks-long intense battle for the strategic town has forced nearly 200,000 people to take refuge in Turkey.