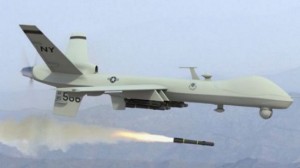 Two UN human rights investigators have criticized the secrecy around Washington's drone attacks in countries like Pakistan and Yemen and have called for more transparency from the US.
Ben Emmerson and Christof Heyns presented two reports on the issue at the UN on Friday and said that the lack of transparency regarding US drone attacks is the biggest obstacle to establishing the effect of these attacks on civilians.
The two UN special rapporteurs also called on other countries to officially say when they deem deadly drone attacks as acceptable. They said the lack of consensus could lead to "a breakdown of peace and security" as the technology is being acquired by more and more countries in the world.
According to Emmerson, the UN Special Rapporteur on human rights and counterterrorism, data from the Pakistani government show at least 2,200 people have been killed in Pakistan by US drone attacks since 2004, of whom at least 400 were innocent civilians.
However, Emmerson says, the involvement of the CIA in US drone attacks in Pakistan and Yemen makes independent verification almost impossible because it creates an "insurmountable obstacle to transparency."
Heyns, the UN Special Rapporteur on extrajudicial executions, also expressed disappointment with Washington's response to a report by Amnesty International which questioned the legality of US drone attacks.
In a joint report, Amnesty International and Human Rights Watch said earlier this week that US officials could be found guilty of war crimes for the secret CIA drone attacks which have killed hundreds of civilians in Yemen and Pakistan.
The administration of US President Barack Obama said Washington "would strongly disagree" with the report, claiming the US actions are legal.