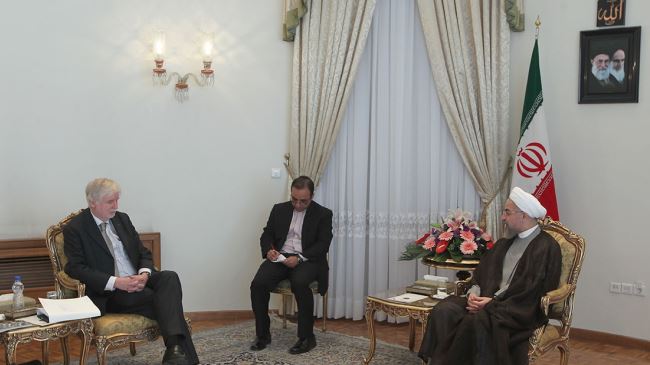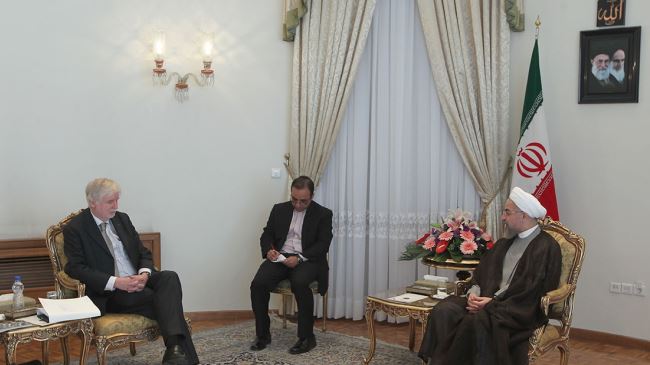 Iran's President Hassan Rouhani says unilateral sanctions against the Islamic Republic over its nuclear energy program run counter to international regulations and are detrimental to the European Union as well.
"Sanctions have so far led to lose-lose outcomes and we hope that Finland, as a member of the European Union, will make efforts to end this trend and help achievement of a final and fair agreement [over Iran's nuclear energy program]," Rouhani said in a meeting with Finnish Foreign Minister Erkki Tuomioja in Tehran on Sunday.
He added that Iran will never accept any discrimination in contradiction to international regulations and seeks to achieve its rights just like other members of the International Atomic Energy Agency (IAEA).
"If the P5+1 countries seek to continue talks with Iran in line with international regulations and with the purpose of building more confidence and transparency, we will also proceed with these negotiations which will be beneficial to the two sides with complete goodwill," the Iranian president pointed out.
Rouhani emphasized that Iran and the six world powers can reach a final agreement if the six countries do not intend to exert pressure on Tehran in order to hinder its scientific and technological development.
He once again insisted on Iran's redlines in the nuclear talks and said, "Iran will never negotiate on its defense capability including defense missiles."
On Friday, the United States imposed sanctions on over 25 individuals and companies, including shipping firms, oil companies, airlines and six banks over alleged links with Iran's nuclear energy program.
The sanctions come as Iran and the five permanent members of the UN Security Council – Russia, France, Britain, China and the US – plus Germany are in talks to reach a final agreement aimed at resolving the standoff over Tehran's civilian nuclear work.
The Finnish foreign minister, for his part, said his country would fully support nuclear negotiations between Iran and the six countries to reach a final agreement in due time.
Tuomioja added that the final outcome of the negotiations should lead to a win-win game for both sides.