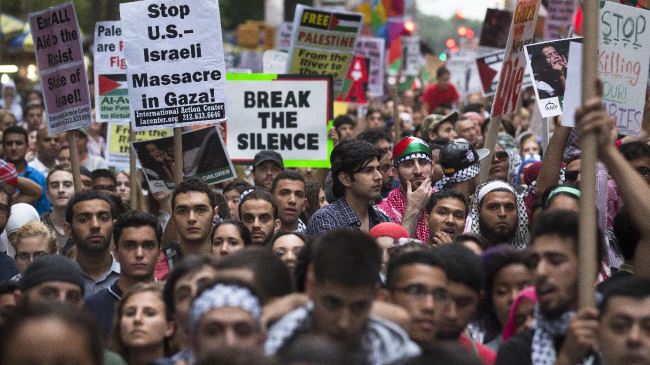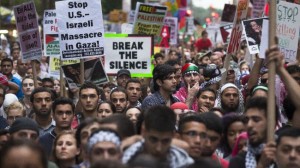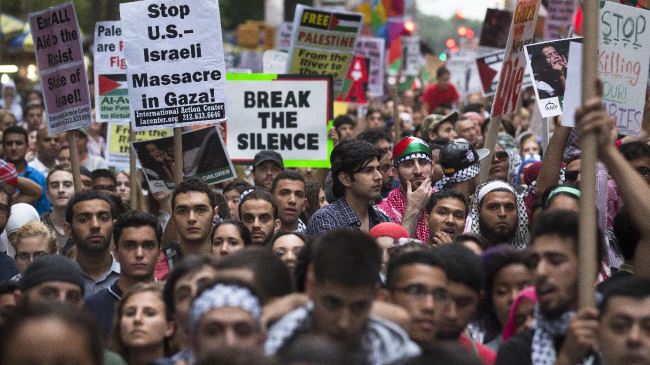 Thousands of people around the world have staged rallies in condemnation of Israeli military strikes against Palestinians in the besieged Gaza Strip.
On Saturday, pro-Palestinian activists poured to the streets of New York City to condemn the Israeli attacks against Gazans. The protesters lined Manhattan streets and then marched at the United Nations headquarters.
The activists chanted "Free, free Palestine!" and "Occupation is a crime!"
"What they're doing is wrong," a demonstrator said referring to the Israelis. "I'm here to protest what's going on in Gaza. What's going on is wrong — bad things like killing children."
Elsewhere, in South Africa's port city of Cape Town, pro-Palestinian demonstrators took to the streets to slam Israel's killing of innocent civilians.
A protest rally was also held in Tel Aviv on Saturday against Israel's ongoing offensive on the besieged Gaza Strip. The demonstration was held despite a police ban on gatherings. The protesters called for an end to the bloodshed in Gaza, urging the Israeli authorities to lift the years-long blockade of the impoverished region.
The protesters slammed the United States for throwing its weight behind the Tel Aviv regime in the offensive on Gaza.
Meanwhile, people held a demonstration against Israel's military operations in Gaza and in support of the Palestinian people in the French capital, Paris, on Saturday.
Hundreds of people in Chile and Mexico also took to the streets of their countries' capitals on Saturday to rally against the ongoing Israeli military operations in the Gaza Strip.
In Chile's capital, Santiago, protesters banged on drums, waved flags and carried banners in support of Gazans. Protesters also called on the Chilean government to cut diplomatic ties with Israel.
Protesters in Mexico City also rallied in support of Palestinians, urging the Israeli regime to stop its offensive in Gaza.
The Israeli war on the Gaza Strip began on July 8. According to Palestinian health officials, the overall Palestinian death toll from the brutal Israeli war on the Gaza Strip has reached 1,917, with most of the fatalities being civilians. Nearly 10,000 others have been also wounded in the attacks.