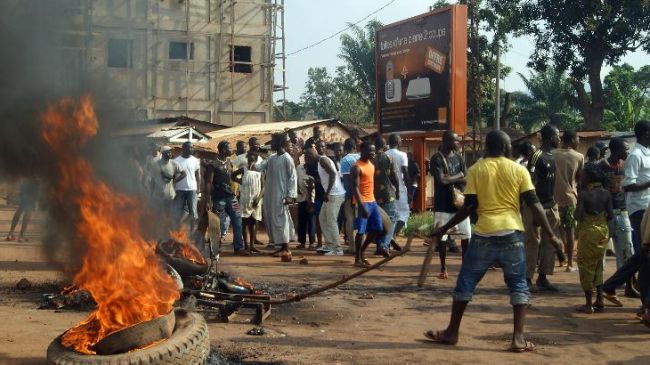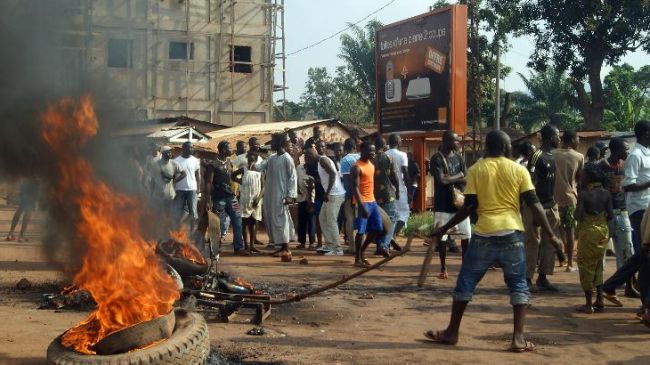 The Red Cross in Central African Republic (CAR) has confirmed 13 deaths in two days of consecutive intense clashes in the country's capital Bangui since Michel Djotodia announced his resignation from the presidency.
Antoine Mbao-Bogo, the local Red Cross president, said on Sunday that the victims were mostly targeted in incidents of "score-settling," and the number is likely to rise as violence simmers in some areas of Bangui.
"Among the dead we've found night watchmen, street children and the victims of stray bullets," Mbao-Bogo noted.
The deaths have spread fear across Bangui and many streets in the city were deserted on Sunday.
Both Djotodia and former Prime Minister Nicolas Tiengaye resigned on January 10 due to intense pressure over the government's failure to contain the ongoing violence in the CAR.
Meanwhile, there have been reports of attacks on mosques and lootings against Muslim-owned shops and houses in Bangui.
The United Nations Children's Fund (UNICEF) has also warned of a humanitarian disaster in the war-torn Central African Republic.
On January 8, Souleymane Diabate, UNICEF representative in the CAR, called for an urgent action to prevent the spread of "a potentially deadly outbreak of disease" at overcrowded refugee camps.
The Central African Republic has been gripped by unrest since Seleka rebels seized control of the impoverished landlocked country in March 2013, ousting former President Francois Bozize and bringing Michel Djotodia to power. Bozizé fled the country after his ouster and has requested that Benin grant him political asylum.
The Office of the United Nations High Commissioner for Refugees says nearly one million people have been displaced due to the ongoing violence plaguing the CAR.