Syria
UN's Syria envoy in Damascus to settle crisis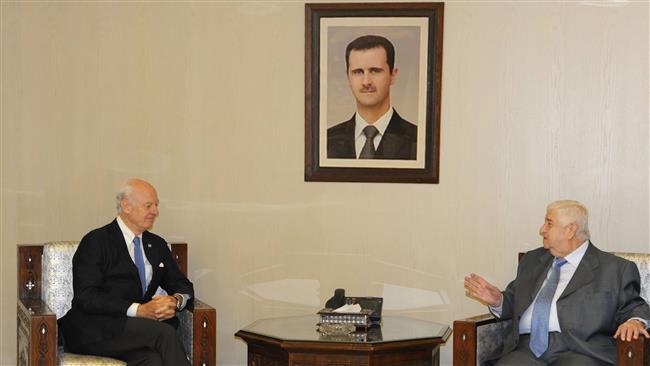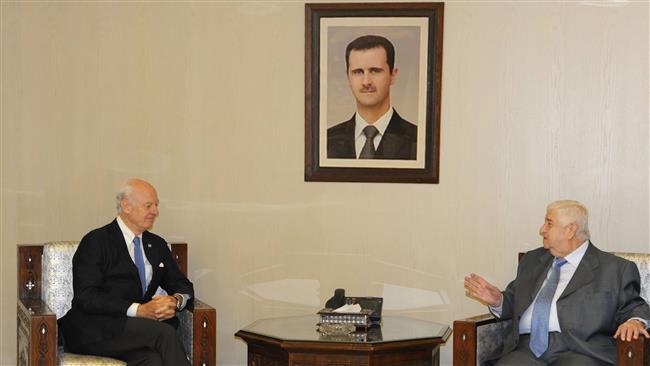 The United Nations special envoy to Syria has arrived in the capital, Damascus, for talks with the government of President Bashar al-Assad in order to find a political solution to the ongoing crisis in the Arab country.
An unnamed member of Staffan de Mistura's team on Monday confirmed his arrival in the Syrian capital.
"Yes, he arrived," AFP quoted the source as saying.
Meanwhile, local media reports say the envoy is expected to stay in Damascus for three days to "inform Syrian officials of the consultations" he has led in the Swiss city of Geneva with Syria's foreign-backed opposition over the past days.
De Mistura's spokesman said on Sunday that the envoy "also plans to discuss the current humanitarian situation in Syria and ways to increase access to besieged and conflict-affected communities".
De Mistura has repeatedly emphasized that President Assad must be involved in any peaceful solution to the crisis in the Arab country.
The envoy had earlier expressed hope that the crisis in Syria will be resolved sooner to avoid more casualties.
"Guns will fall silent one day – it is inevitable as has been seen in countless other conflicts. The sooner they fall silent, the more lives will be saved," De Mistura told a press briefing in early May in Geneva.
The renewed efforts come months after Western-backed Geneva I and Geneva II peace conferences on Syria were held in June 2012 and February 2014 respectively. The two conferences met with failure after foreign-sponsored opposition figures in the talks refused to discuss militancy and widespread terrorism in the country.
United Nations Secretary General Ban Ki-moon confirmed the nomination of de Mistura, the Italian-Swedish diplomat, as a new mediator for the crisis in Syria in July last year. He replaced Lakhdar Brahimi, who quit his post after holding two unsuccessful rounds of talks between the Syrian government and foreign-backed opposition forces in Geneva.
Syria has been grappling with a deadly crisis over the past four years. The US and some of its regional allies – especially Qatar, Saudi Arabia, and Turkey – are financially and logistically backing various militant groups.