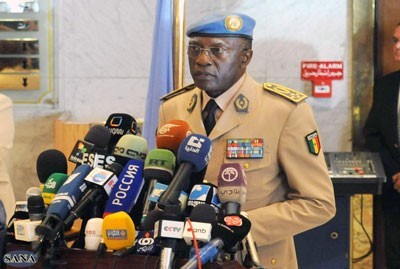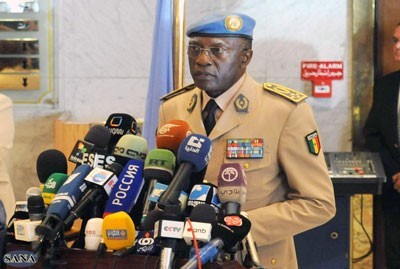 Head of the UN Supervision Mission in Syria (UNSMIS), General Babacar Gaye, said that even though the mandate of the UNSMIS ends on Sunday, the UN will not leave Syrian and will continue working to find a way out of violence.

In a press conference held in Damascus on Saturday, Gaye added that the mission to supervise the ceasefire agreed upon by all sides started on 21 April, highlighting that "Initially, the ceasefire was respected, violence decreased and we were able to do our work throughout the country."
Gaye said that in the middle of June, violence was reignited, therefore UNSMIS reoriented its efforts to facilitate pauses in fighting to enable humanitarian assistance to be delivered.
He called upon all parties to end violence that is causing suffering to the innocent people of Syria, expressing thanks to the 300 military observers and all UNSMIS personnel for their commitment to the effort of ending violence.
"I would like to thank, on behalf of UNSMIS's personnel, all our Syrian counterparts for the cooperation and hospitality they have shown. Syria has a proud and rich history. Its future must not be undermine," he stressed.
He considered that the most important legacy of UNSMIS is that it paved the way for a united agreement by the Security Council for the United Nations to stay in Syria.
He appealed for shifting the mindset from military logic to a mindset of dialogue, adding that this appeal is yet to be followed by acts and operational decisions for both parties.