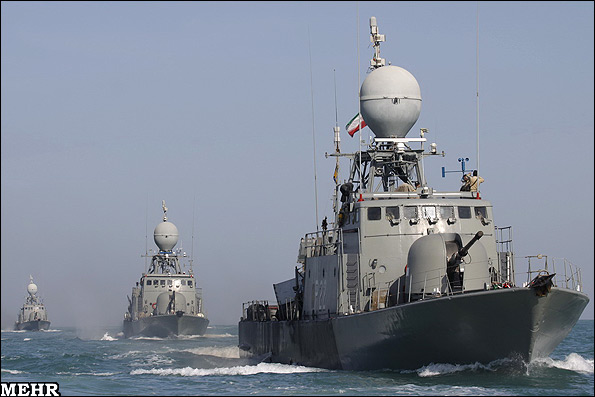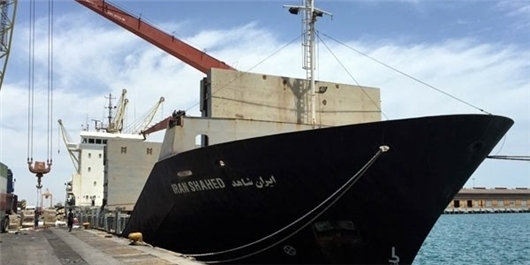 Deputy Chief of Staff of the Iranian Armed Forces Brigadier General Massoud Jazzayeri warned on Tuesday that Iran would launch war on any state that dares to attack the Iranian ship that is on its way to Yemen with a humanitarian aid cargo.
"Attacking the Iranian Red Crescent aid ship will spark war in the region," General Jazzayeri told the Arabic-language TV Alalam on Tuesday evening, adding, "And this fire may not be put out or brought under control."
"The US and Saudi Arabia should know that Iran's self-restraint has a limited," he cautioned.
An Iranian ship carrying humanitarian aid supplies, relief workers and peace activists from several countries left the Southern Iranian port city of Bandar Abbas for Yemen on Monday.
"We are a group of relief workers, physicians and peace activists from the US, Europe and Germany. We are a part of the Islamic Republic of Iran's Red Crescent Society. We are trying to bring medical stuff, flour and water for the Yemeni people," a statement issued by 7 anti-war activists aboard the ship said on Monday.
"A large number of physicians and a few journalists from Iran are accompanying us on the ship and we intend to deliver 2,500 tons of medical supplies to the Hudaydah port on the Red Sea," it added.
The activists reiterated that everything on the deck has been checked to make sure that there is no weapon on the ship.
The anti-war activists also condemned the Saudi fighter jets bombing of the Sana'a airport to prevent the delivery of Iran's humanitarian aids to Yemen, and stressed, "Preventing the dispatch of humanitarian aid to another country is a flagrant violation of the international laws."
"Let the hungry Yemeni children live! This illegal siege should end," the statement underlined.
The Iranian Red Crescent Society (IRCS) has been trying to dispatch humanitarian aid to Yemen through sea and air, but has failed due to Saudi Arabia's full blockade of the war-ravaged country.
Late in April, Saudi jet fighters shooed away three Iranian cargo planes from Yemen's airspace. But in the third case they bombed the Sana'a airport control tower and runway seven times to prevent the Iranian defying pilot from landing. The Iranian civilian plane was carrying humanitarian aids, including medical equipment, for the Yemeni people who have been under the Saudi-led airstrikes for over a month now. The cargo plane was due to take humanitarian aid to Yemen and take several civilians, who were critically wounded in the recent Saudi bombings, back to Tehran to receive specialized medical treatment.
Iran had earlier sent five consignments of humanitarian aid to Yemen, including a total of 69 tons of relief, medical, treatment, and consumer items
Last month, Head of the Yemeni Red Crescent Society Mohammad Ahmad al-Kebab in a letter to his Iranian counterpart Seyed Amir Mohsen Ziayee thanked Iran for the recent humanitarian and medical aid cargoes sent to his country.
"I appreciate the unsparing help and relief operations as well as the humanitarian attempts of the Iran Red Crescent Society (IRCS)," al-Kebab said in his letter.
He expressed the hope that interactions and mutual cooperation between the two countries' Red Crescent societies would increase in future.
But late in April, the IRCS blasted Saudi Arabia for blocking Iran's humanitarian aids to Yemen.
"The IRCS humanitarian aid consignments are ready to be dispatched to Yemen, but unfortunately Saudi Arabia prevents their delivery to Yemen," Shahabeddin Mohammadi Araqi, IRCS deputy managing director for international and humanitarian affairs, said.
Mohammadi Araqi described the Yemeni people's conditions as critical, and said, "We are in contact with Yemen's Red Crescent Society and Health Ministry and have included their needs in the new consignment."
He lamented that planes and ships are not allowed into Yemen's ports and airports, and said, "Unfortunately, the Saudi government has prevented the dispatch of aids to Yemen."
Saudi Arabia launched its bombing campaign against Yemen on March 26 in an attempt to restore power to fugitive President Mansour Hadi, a staunch ally of Riyadh.
Hadi stepped down in January and refused to reconsider the decision despite calls by Ansarullah revolutionaries of the Houthi movement.
Despite Riyadh's claims that it is bombing the positions of the Ansarullah fighters, Saudi warplanes are flattening residential areas and civilian infrastructures.
According to FNA tallies, the Monarchy's attacks have so far claimed the lives of at least 3,755 civilians, mostly women and children.